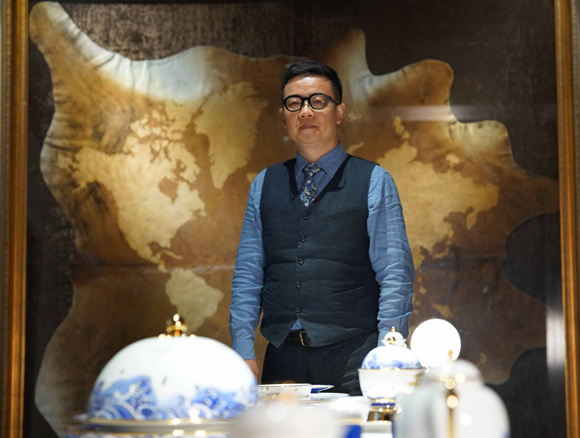 Huang Chunmao with the china tableware he designed for the BRICS Summit banquet. (Photo/CGTN)
Shell-shaped plates, salt and pepper shakers fashioned after a mixture of different architectural styles on Gulangyu Island, and tea saucers inspired by boat designs are some of the delicate china tableware pieces featured at the welcoming banquet for leaders attending the ongoing BRICS Summit in Xiamen, southeast China's Fujian Province. [Special coverage]
Huang Chunmao, professor of ceramic design at China Central Academy of Fine Arts (CAFA), is the brain behind these creations.
"The decision to adopt each and every piece was done with careful consideration to the event itself and the host city," he told CGTN.
Inspiration
It was not long before Huang was struck with a light bulb moment. He settled on the marine theme of his ceramic concoctions, drawing inspiration from Xiamen's geography and history.
"I highlighted the marine culture and the fact that Fujian was the starting point of the Maritime Silk Road," Huang noted.
The saucers of teacups took the shape of boats and were decorated with sea wave patterns in white and blue. The china tableware, according to Huang, tells the story of the innumerable ships that sailed from Fujian 2,000 years ago along the ancient route.
Gulangyu, a tiny pedestrian-only island off the coast of Xiamen, is one of the most popular tourist destinations in China for its picturesque views and rich culture. It was named a UNESCO World Cultural Heritage Site on July 8, 2017, "as China's major gateway in early-stage globalization and exhibited mixed architectural characteristics from the local, Southeast Asian and Western styles."