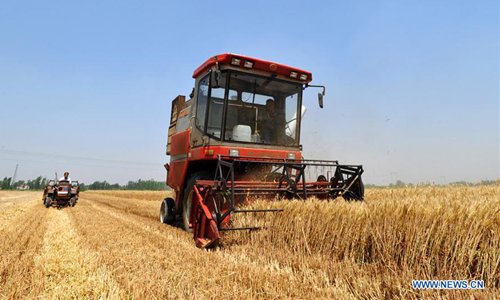 A harvester collects wheat in Nanpi County, north China's Hebei Province, June 11, 2017. More than 70 percent of summer wheat have been harvested across the country. Photo: Xinhua
China will spend 1.5 billion yuan ($200 million) on its drive to professionalize farming, which the Minister of Agriculture claimed will make "everyone want to be farmers."
Participants will be encouraged to use modern machinery rather than manual labor, be educated in environmentally friendly farming techniques and will be taught up-to-date land management knowledge, the People's Daily reported on Sunday.
In the past, subsistence farming was the norm, but now farming should be seen as an admirable profession, the report cited Han Changfu, the Minister of Agriculture, as saying.
Farmers will be able to register online for local training sessions and will also be able to receive lessons on the Internet, according to the People's Daily report, which said that some farmers have been taught how to fly drones.
Four million farmers have received training since the nationwide "new farmers" campaign kicked off in 2012, according to the report.
With China's industrialization and urbanization, rural residents are migrating to the country's cities for work, leading to a loss of manpower, Wang Sangui, a professor at the School of Agricultural Economics and Rural Development of Renmin University of China, said on Monday.
China's rural population is estimated to drop to less than 40 percent of the country's total by 2020, the Beijing News reported.
"The government's efforts in cultivating new professional farmers will help stabilize agricultural supplies, increase the efficiency of farm work and promote larger scale agricultural production with less, but more professional, farmers," said Wang.