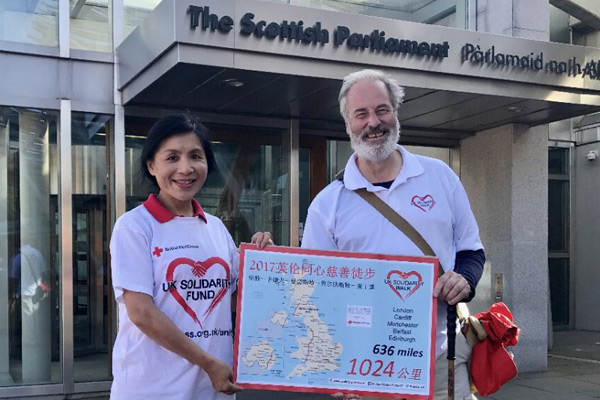 Michael Bates, right, poses with his Chinese-born wife, Xuelin Bates. (Photo provided to chinadaily.com.cn)
Michael Bates, a member of the UK parliament, has completed a charity walk from London to Scotland in 44 days.
The 1,000-kilometer journey involved a route via Cardiff, Manchester and Belfast, before finishing in Edinburgh on Sunday.
Bates, 56, a minister of state at the UK's Department for International Development and a member of the House of Lords, set out from London on July 20, accompanied by his Chinese-born wife, Xuelin Bates.
The aim was to raise money for the UK Solidarity Fund to support the victims and families affected by the recent terrorist attacks in London and Manchester.
"We need to readdress the importance of solidarity," Bates said after arriving at Edinburgh Castle. "No matter how different we are, solidarity is always more powerful than separation."
Along the route, Bates kept a walking log, noting down all the adventures he had experienced.
Xuelin provided logistical support, including planning the walking trail, booking accommodation and arranging publicity.
They have successfully raised over 50,000 pounds ($65,000), which takes them a step closer to their goal of raising 1 million pounds over the next 10 years.
"Charity walk is a very good way to share the truest part of humanity with others,"Bates said. I'll keep doing this as long as I'm in good condition and I believe we can make this world a better place."
The walk is the latest in a series of charity fundraising challenges the couple have tackled.
In 2015, they completed a 71-day journey from Beijing to Hangzhou to raise money for Red Cross projects in China. Last year, Bates trekked through South America in aid of the children's charity UNICEF.