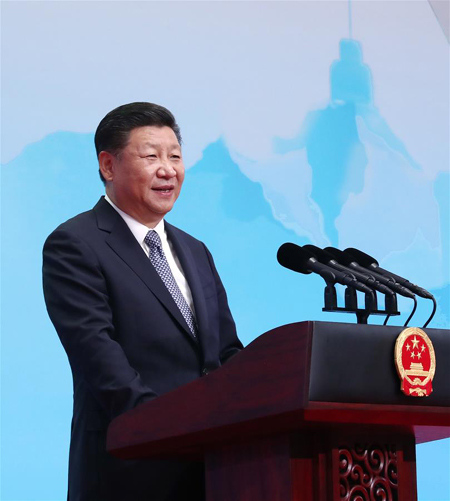 Chinese President Xi Jinping delivers a keynote speech at the opening ceremony of the BRICS Business Forum in Xiamen, southeast China's Fujian Province, Sept. 3, 2017. (Xinhua/Ju Peng)
Chinese President Xi Jinping has shared his vision for the BRICS cooperation which he believes will enter a second "golden decade" if the emerging-market countries work together to overcome the challenges of weak growth and threats to world peace.[Special coverage]
Addressing the BRICS Business Forum in Xiamen on Sunday, with Brazilian President Michel Temer and South African President Jacob Zuma in audience, Xi said after ten years a fully-fledged BRICS cooperation framework is taking shape.
With Russia's Vladimir Putin and India's Narendra Modi joining in, the leaders of the world's five major developing countries will chart way forward for the bloc at the ninth BRICS summit scheduled for Sept. 3-5.
Xi on Sunday refuted the assertion that BRICS is losing luster.
He said despite headwinds causing growth setbacks, the BRICS countries are "fully confident" about their growth potential and the future outlook.
TANGIBLE BENEFITS
BRIC was first coined in 2001 to describe four emerging economies with fast growth and great potential. The concept turned into a formal cooperation framework in 2006. Four years later, South Africa joined. BRIC became BRICS.
Xi said the past decade has seen the BRICS countries making headway in pursuing common development. Their combined GDP grew 179 percent, trade increased 94 percent and urban population expanded 28 percent during the period.
The development of the BRICS countries over the past decade has delivered tangible benefits to more than 3 billion people.
Xi said three important practices of the shared value should be carried forward -- treating each other as equals, seeking results-oriented cooperation, and bearing in mind the well-being of the world.
"Dialogue without confrontation, partnership without alliance," Xi summed up the cooperation principle in a simple phrase.
He said the principle has gained growing endorsement and has become a positive energy in the international community.
RISING UP TO CHALLENGES
The Chinese president said the global economy remains in a period of adjustment featuring weak growth and no apparent new drivers. Due to sluggish growth, protectionism and inward-looking mentality are on the rise. Uneven development and a deficit of fairness have become more acute.
He challenged BRICS countries to create new impetus for growth and continue to improve global economic governance.
"We should not ignore problems arising from economic globalization or just complain about them. Rather, we should make joint efforts to find solutions," Xi said.
He said the BRICS countries should promote the building of an open global economy, advance trade and investment liberalization and facilitation, build new global value chains, and rebalance economic globalization.
"Only openness delivers progress, and only inclusiveness sustains such progress," Xi said.
The long road to peace is not smooth, Xi said, calling on the BRICS countries to play a constructive part in the process of resolving geopolitical hotspot issues and make due contributions.
He envisioned flames of war dying and displaced refugees returning home as dialogue and consultation settle issues in Syria, Libya and the Palestine-Israel conflict.