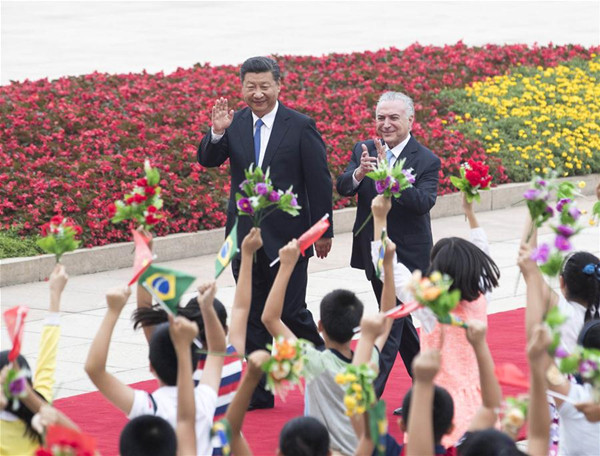 Chinese President Xi Jinping (L) holds a welcome ceremony for Brazilian President Michel Temer before their talks in Beijing, capital of China, Sept. 1, 2017. Temer is in China for a state visit at the invitation of Xi. During his stay, Temer will also attend the BRICS summit and the Dialogue of Emerging Markets and Developing Countries to be held in China's southeastern coastal city of Xiamen in Fujian Province from Sept. 3 to 5. (Xinhua/Wang Ye)
Chinese President Xi Jinping and his Brazilian counterpart Michel Temer on Friday agreed to further advance the comprehensive strategic partnership between the two countries.[Special coverage]
"China and Brazil have forged a mature and solid relationship as the largest developing countries respectively in the Eastern and Western Hemispheres and leading emerging economies," Xi said.
For the past year, China and Brazil have had useful communication and coordination on BRICS cooperation and major global issues, with bilateral trade, investment and finance cooperation flourishing, Xi said.
Xi said China appreciates Brazil's long-term adherence to the one-China policy, and both sides should understand and support each other on issues relating to their core interests and major concerns.
Both sides should give full play to the role of the bilateral high-level commission for coordination and cooperation, synergize the Belt and Road Initiative with Brazil's development strategies and boost regional connectivity, according to Xi.
The two countries should expand cooperation on trade, agriculture, culture, tourism and sports and work closer within the UN, G20 and the World Trade Organization.
Xi proposed both countries deepen partnerships in infrastructure, manufacturing, mining, energy, industrial capacity and scientific innovation.
Xi said China will work with Brazil to advance BRICS cooperation in the economy, politics, security and culture to usher in a second golden decade of BRICS cooperation.
He said China supports Latin America's integration and development and is open to cooperation with the South American trade bloc Mercosur (Southern Common Market).
Temer said Brazil prioritizes the comprehensive strategic partnership and described China as a reliable friend of Brazil.
Temer said his country supports China in hosting a successful BRICS summit in Xiamen and will work with China to advance BRICS cooperation with the developing countries at large.
After the talks, the two heads of state witnessed the signing of cooperation documents ranging from industrial capacity, e-commerce, electricity, tourism, health to culture and other areas.
Prior to the talks, Xi held a red-carpet welcome ceremony for Temer at the Great Hall of the People in Beijing.
Also on Friday, Chinese Premier Li Keqiang and top political advisor Yu Zhengsheng met with Temer respectively.
Li said both sides should optimize trade structure and work to achieve a more balanced trade through opening up to each other.
He said China welcomes Brazil to import more competitive Chinese products while the Chinese government supports well-established businesses to invest in Brazil.
Yu said the Chinese People's Political Consultative Conference National Committee will strengthen exchanges with Brazil's National Congress to contribute to the development of bilateral relations.
Temer arrived in Beijing on Thursday for a state visit at the invitation of Xi. During his stay in China, Temer will also attend the BRICS summit and the Dialogue of Emerging Markets and Developing Countries to be held in China's southeastern coastal city of Xiamen in Fujian Province from Sept. 3 to 5.
BRICS -- Brazil, Russia, India, China and South Africa -- plays an important role on international stage. China holds the BRICS presidency this year.