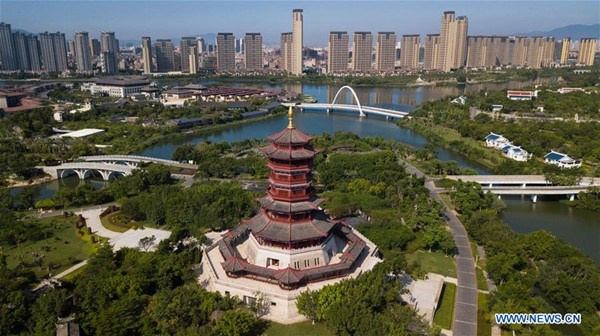 Aerial photo taken on Aug. 24, 2017 shows the scenery of a park in Xiamen, a scenic city in southeast China's Fujian Province. The 9th BRICS summit will be held in Xiamen from Sept. 3 to 5, 2017. (Xinhua/Song Weiwei)
Leaders from the world's top emerging markets will gather in the southeastern Chinese coastal city of Xiamen this month, marking the 11th anniversary of the BRICS cooperation mechanism.[Special coverage]
The original term "BRIC," coined by former Goldman Sachs economist Jim O'Neill in 2001, referred to Brazil, Russia, India and China, four emerging markets with fast growth and great potential.
In 2006, foreign ministers from those countries met in New York to formally establish the BRIC grouping. When South Africa joined in 2010, the acronym changed to BRICS.
Together, the five countries now represent 44 percent of the world's population and 23 percent of global GDP, up from 12 percent a decade ago.
Amid a sluggish global economic recovery and setbacks in globalization, the Xiamen summit from Sept. 3 to 5 may be able to put a new shine on emerging markets and developing countries.
This year marks the first time for Chinese President Xi Jinping to chair a BRICS summit.
A traditional shipping center, Xiamen has been a window for the Chinese economy. As one of the first special economic zones in China, it has been a pilot city for many market-oriented economic reform experiments, a hub for attracting foreign industries, and a symbol of the nation's ambitions to reform and open up to the world.
Xiamen is also a pioneer of BRICS cooperation in trade and investment. In 2011, it hosted the China International Fair for Investment and Trade, where representatives of the five BRICS countries jointly participated for the first time.
The choice of Xiamen to host the latest BRICS summit reflects that openness and growth will have an important place on the agenda.
China has already emerged as a staunch advocate for globalization and open trade, particularly as the world struggles to close a widening development gap while protectionism rears its ugly head.
Xi, in his speech in January at the World Economic Forum at Davos, declared that protectionism was like "locking oneself in a dark room."
Though economic globalization has created new problems, this is no justification to write off economic globalization completely.
"Rather, we should adapt to and guide economic globalization, cushion its negative impact and deliver its benefits to all countries and all nations," Xi said.
This stance is likely to be reaffirmed at the Xiamen summit, which is themed "BRICS: Stronger Partnership for a Brighter Future."
China has consistently pinned high hopes on BRICS for emerging markets with which it can find natural common ground.
While the English acronym is itself catchy, the Chinese translation -- four characters meaning "gold bricks countries" -- conveys confidence in the future.