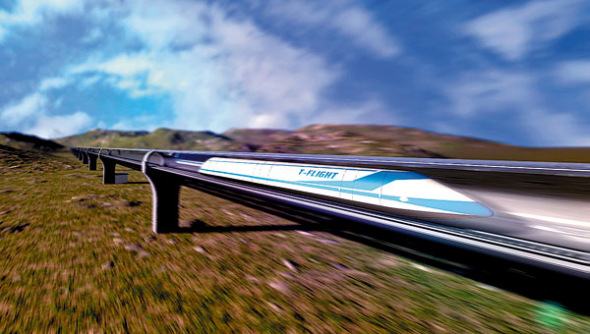 Space firm launches R&D on hyperloop
China Aerospace Science and Industry Corp, one of the nation's major space contractors, announced that it has launched research and development into a futuristic ultrafast transport system popularly known as a hyperloop, in Wuhan, Hubei province, on Wednesday.
The CASIC hyperloop will be a maglev line on which a streamlined, engineless train will travel on partly elevated tubes or tunnels at superfast speeds reaching 1,000 kilometers per hour, according to a news release published by the company at the Third China International Commercial Aerospace Forum in Wuhan.
CASIC is the first Chinese enterprise and the world's third, following the United States' Hyperloop Transportation Technologies and Hyperloop One, that has started developing a hyperloop system capable of reaching 1,000 km/h. The project will benefit from the company's experience in systems engineering and supersonic vehicles, CASIC said.
Mao Kai, chief designer of the system at CASIC, said his company is working with more than 20 domestic and foreign institutes on the project, adding that technicians are striving to develop key technologies like those used for building an elevated tube.
"In the future, we will develop technologies that allow a train to travel at 2,000 and even 4,000 km/h," he said. "Once our development is successful, we plan to construct a short-distance line for trial runs."
The 1,000 km/h and 2,000 km/h versions could be used for intercity networks while the 4,000 km/h version could form part of a transnational ultrafast transportation network, CASIC said.
China's fastest bullet train travels at about 350 km/h though its designed maximum speed is 400 km/h, according to the China Academy of Railway Sciences.
The nation has also tested an ultrafast bullet train that is able to travel around 600 km/h, but its designers said it was built to test next-generation railway technologies rather than for commercial operation.
The maglev's acceleration and deceleration in the tube would be slow and smooth for passenger comfort, Mao said. Landforms and engineering considerations would determine whether a line is built aboveground or underground, he said.
The idea of using magnetic levitation and a low-pressure tube to transport people or cargo was floated by scientists years ago. It gained new traction in 2012 when tech tycoon Elon Musk, CEO of SpaceX and Tesla, made public his aspiration to build a hyperloop between Los Angeles and San Francisco.
Hyperloop Transportation Technologies and Hyperloop One have designed and produced prototypes and have inked agreements with several nations to perform feasibility studies, reports say.