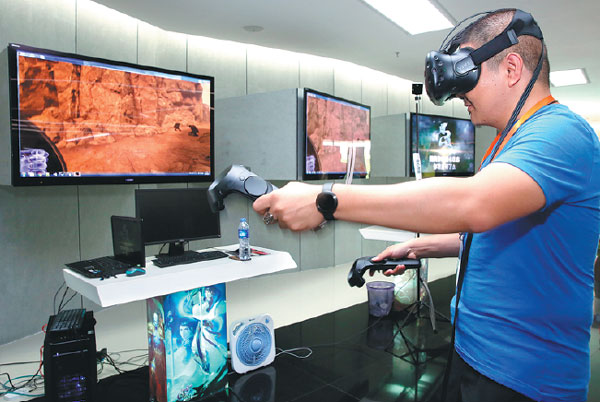 A customer experiences visual reality equipment made by G-bits, a company in Xiamen that focuses on internet game design and development. Jin Liwang / Xinhua
Overseas presence
Meitu has established a significant presence overseas, and last year, 27 percent of its active daily users came from other countries. With 500 million users outside China, Meitu has achieved growth in BRICS countries, with more than 85 million users in India, 23 million in Brazil, 10 million in Russia and 3 million in South Africa.
Fu Kan, managing director of Meitu's international businesses, said the strategy for overseas markets is to ensure that each product is highly localized and includes cultural elements unique to each region. Consumers in these markets have their own preferences when it comes to expressing themselves through photos, videos, personal styles and social media presence.
Meitu's fastest-growing overseas market is Brazil, where user numbers rose eightfold last year. Meanwhile, India is the company's largest source of users outside China.
The company has worked with leading local brands and celebrities in both markets, including Brazil's Natura, South America's largest cosmetics maker, and the Bollywood actress Shilpa Shetty in India, to further drive growth and promote its apps in these different cultures.
For example, Indian women have different definitions of beauty than Brazilian women, but both inspired Meitu's designers to follow different beauty trends and develop diverse products.
"That's why it's important for us to ensure that we create a highly localized experience for our users by offering culturally relevant looks, styles and content in our apps, especially our virtual makeup app," Fu Kan said.
To ensure its products deliver culturally relevant content to international users, Meitu has established seven offices overseas.
"Chinese women like to whiten their skin with our apps, but Brazilian women are inclined to get more tanned," said Deng Lijun, Meitu's director of media relations. "By comparison, consumers in Thailand particularly like photos related to their gods. So, we are trying to follow diverse cultural features and put them in our products."
Market sensitivities
In some cases, Meitu's apps need to go beyond localization of culture and language. In India, for example, many users don't have the bandwidth to install and use apps that demand fast broadband, so the company has developed a simplified version especially for customers in the country, Fu Kan said.
Wang Zhonghong, a researcher in technological innovation at the State Council Development Center, said Xiamen, which has benefited from the national policy to develop the western side of the Taiwan Straits, was one of the first mainland cities to open-up and attract leading industries.
The city's natural environment and efficient government services also help to attract the investors and talent required to develop emerging industries such as Meitu, he added.
As one of the starting points of the ancient Maritime Silk Road, the city plans to use the opportunities created by the Belt and Road Initiative to appeal to foreign investors and explore markets overseas.
Wang suggested that Xiamen should further promote technological innovation to achieve smart tourism, smart transport, a smart city and high-end manufacturing, which will improve urban construction and aid development.
In the coming years, the city should also release more stimulus measures to further encourage investment from domestic and foreign companies, and it should also follow the lead of other major cities in cultivating world-famous brands, he said.