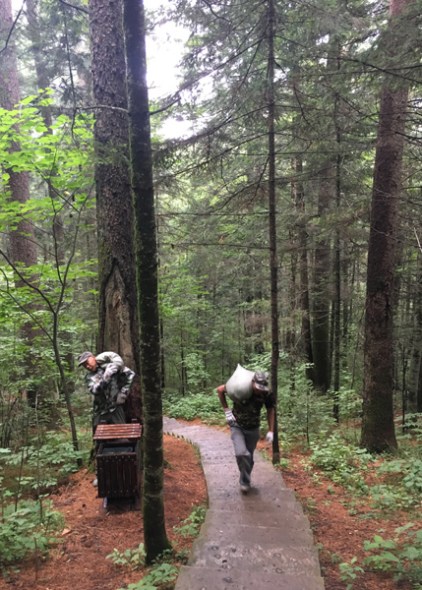 Two workers carry bags of materials to repair an observation deck for visitors at a red pine park in Yichun, Heilongjiang province.
Thanks to multiple measures, such as bans on cutting and increased public awareness, the red pine, a protected species, has recovered a little in Yichun, Heilongjiang province, after decades of deforestation.
Yichun is home to vast natural forests. More than 84 percent of the area within its boundaries is forested today, and the number is growing.
More than 60 percent of the world's natural red pines were scattered through northeastern China-half of that in the Lesser Khingan Mountains, where Yichun is situated-in the first years of the 20th century. The trees are under national protection, but they were cut for six decades, mainly for construction.
The red pine saw a dramatic drop in coverage-from 1.1 million hectares in 1948 to just 40,000 hectares in 2004, because of overcutting, according to historical data from the city government.
"The sharp decline has caused serious problems in the environment, such as soil erosion, expansion of land prone to drought, reduced water resources and increased frequency of flooding in mountainous areas," a report from the Yichun Red Pine Protection Union, a government-affiliated agency, said this year.
"We cannot allow any further reduction of this protected pine, and have taken comprehensive steps to recover it," said Yuan Zhongxia, deputy secretary-general of the union.
The Yichun government's ban on cutting in September 2004 marked the end of the loss of natural red pines that had been going on since 1948. The red lumber once brought as much as 160 million yuan ($24 million) of revenue annually to the government, the union's report said.
"The city set up our union in December 2007 to encourage the public to protect the trees," Yuan said.
Individuals and organizations can now "adopt" some red pines, meaning people can donate money for their maintenance-100 to 1,000 yuan per pine," she said, adding that while donors don't acquire an ownership right, the innovative measure "has attracted huge enthusiasm".
As of the end of last year, more than 376,000 red pines had been adopted by individuals and organizations, including celebrities from home and abroad. The program has raised around 40 million yuan since December 2007, Yuan said.
For example, Robert Kuok Hock-Nien, chairman of Kerry Group and one of the wealthiest men in Asia, donated 5 million yuan to support the protection of 50,000 red pines.
In total, more than 6.6 million red pines are available for adoption, mainly scattered in natural reserves and parks, Yuan said.
Yichun has nine natural reserves at the national level, some of which are set for red pines-such as the one in Wuying district. It's estimated that the coverage of red pines expanded from 40,000 hectares before the ban to around 110,000 hectares in 2015, the city government said.
Lumberjack Dai Xinguo of Wuying, which has the largest zone of natural red pines in China, has witnessed the waning and thriving of the protected pine.
"We used to live on the income generated by cutting them down, but now we make much more money from protection," he said.