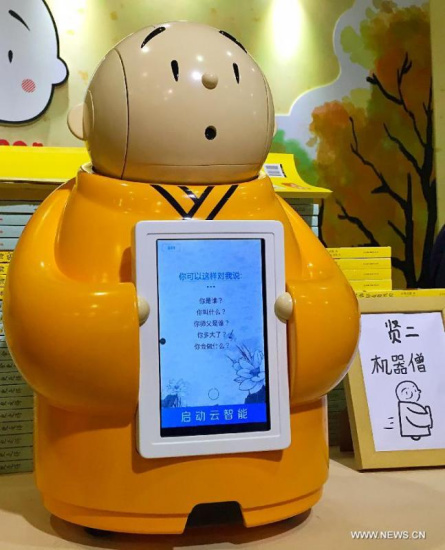 A robot named "Xian'Er" makes its debut at Guangzhou Animation Festival in Guangzhou, capital of south China's Guangdong Province, Oct. 4, 2015. (Photo: Xinhua/Xue Dongmei)
Xian'er, a robot monk at Beijing's Longquan Monastery, have learned to speak English, according to an article on its WeChat account on Aug 16.
The talkative robot, which is dressed in a yellow robe like a Buddhist monk, was developed in October 2015 and can sense its surroundings, answer questions, and interact in simple conversations.
In the article, Xian'er is told that its English does not seem that good, to which it replies that it is "just a little monk" and requests that people do not ask difficult questions.
When asked what it would do if it made a mistake when talking in English about Buddhism, Xian'er replied in its usual humorous style, "I need to ask my master."