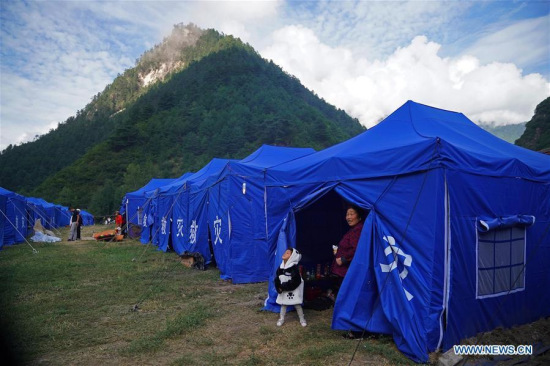 A woman takes a child out of a tent at a temporary shelter in Zhangzha Village of Zhangzha Town in Jiuzhaigou County, southwest China's Sichuan Province, Aug. 11, 2017. (Xinhua/Cai Yang)
The death toll from the powerful Jiuzhaigou earthquake has risen to 25, authorities said on Saturday.
Twenty-four victims have been already identified.
As of Saturday night, a total of 176,492 people were affected by the earthquake, among which, 525 people were injured and six others remain missing. The quake also damaged 73,671 houses including 76 that collapsed.
The 7.0-magnitude quake struck Jiuzhaigou county in southwestern China's Sichuan Province on Tuesday night.
The search and rescue work is almost complete, with tourists evacuated and victims settled down.
Electricity, water supplements, traffic, and communication are all operating like normal now.