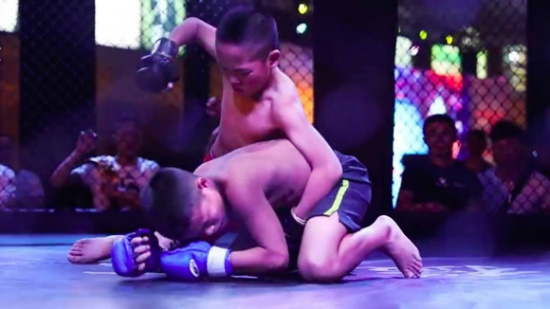 Boys during the performance. (Photo/Screenshot of Pear Video)
The owner of a martial arts club that trains orphaned teenagers said he will not accept children from the impoverished Liangshan region any more, amid pressure from the local government and public accusations that he is "exploiting" the minors.
En Bo, a retired special police officer, founded the Enbo Fight Club in Chengdu, Sichuan Province in 1995 and later started to train orphans in mixed martial arts. The children receive training and accommodation for free, but have to fight in commercial bouts.
In late July the media reported on the club, putting En and the children under the spotlight. The club has "adopted" more than 400 such children who came voluntarily, mostly orphans or those from extremely poor families.
The children strictly follow a rigorous training routine every day, training hard to avoid being kicked off the team. Some even hope to find glory with the US-based Ultimate Fighting Championship in the future. "My idol is zuipao (Conor McGregor)," one of the young boxers told Jumian, a news video producer.
A lot of the children come from Liangshan, a mountainous Sichuan prefecture and one of the poorest regions of China. The large numbers of orphans and left-behind children who receive inadequate care has long been a problem in Liangshan, which is haunted by extreme poverty, drug addiction and HIV.
En said he first started to train children from Liangshan at the request of local civil affairs officials who asked him to allow the kids to join a cooperation project he was running with the government to train boxers.
As this project went well at first, more children began showing up, sent by their guardians or village officials. Besides martial arts, the club taught them classes like Chinese, mathematics and ethics.
However, after reports about the club went viral, the Liangshan education bureau said the children should receive a proper education. It has been reported that the bureau has sent personnel to collect some of the children and return them to their homes.
Children who spoke to the media said they want to continue training, as the meals they are given are better than their diet of potatoes back home.
En said he would not accept trainees from Liangshan again and has turned down two children from the region since the story went viral.
"I will recruit at least 100 children from my hometown before the Spring Festival. I will let them see," he said.