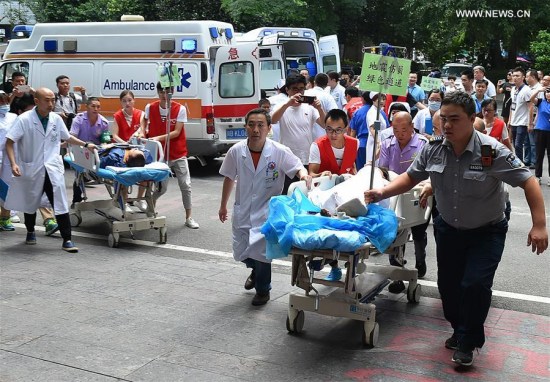 People injured in Jiuzhaigou earthquake are transferred to the Central Hospital of Mianyang City, southwest China's Sichuan Province, Aug. 9, 2017. Four injured people were transfered to Mianyang for medical treatment after a 7.0 magnitude earthquake struck Jiuzhaigou County in Sichuan Province on Tuesday. (Xinhua/Pu Tao)
The death toll has risen to 20, with 431 injured, after a 7.0-magnitude earthquake in southwest China's Sichuan Province Tuesday night, local authorities confirmed Thursday.
Among the injured, 18 are in serious conditions, according to the provincial government.
Seventeen of the seriously injured have been transferred to the cities of Chengdu and Mianyan for treatment.
More than 50,000 tourists, including 126 foreigners, were evacuated following the quake, which struck Jiuzhaigou County at 9:19 p.m. Tuesday at a depth of 20 kilometers.
Jiuzhaigou is a popular tourist destination in the mountains on the eastern edge of Qinghai-Tibet Plateau. It is part of the Aba prefecture and is known for its ethnic minority communities, mountainous landscape, and stunning scenery.