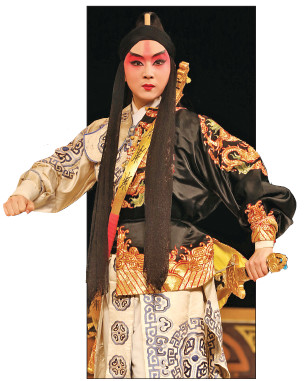 An artist in Wu Opera costume from Struggle, which runs from Aug 21 to Aug 28. (Photo/China Daily)
In August, the focus of the international arts world turns to Edinburgh, where Chinese acts will play a major role at the Edinburgh Festival.
More than a dozen performers from China will put on shows throughout the month at the world's largest arts festival, including offerings of music, theater and dance.
The Center for Shanghai International Film Festival has organized China Focus, a group of seven acts that will travel to Scotland with the support of China's Ministry of Culture and the Scottish government's international enterprise agency, Scottish Development International.
David Leven, head of SDI's China office, said: "Supporting connections like this between China and Scotland helps strengthen our relationship and encourage collaboration. Edinburgh's year-round festivals generate 313 million pounds ($410.8 million) for the Scottish economy, with the tourism, hospitality and leisure sectors the main beneficiaries."
From Aug 2-12 theater fans can watch the National Theater of China's Luocha Land at C Venues. The play follows Maji, who finds himself in an island kingdom of flesh-eating demons. Maji's plans for escape become confused as the other worldly laws of this mysterious place, where beauty and ugliness are reversed, take their toll on his psyche.
The Shanghai Dramatic Arts Center and British physical theater company Gecko will put on a joint performance of The Dreamer at the Pleasance Grand between Aug 2 and 15. The production draws duel inspiration from William Shakespeare's A Midsummer Night's Dream and Tang Xianzu's Peony Pavilion, which is one of China's most enduring love stories and was written in the 16th century.
From Aug 3-27 visitors to the Assembly Hall will be treated to a fusion of acrobatics, pop music, traditional Chinese art forms, and Broadway storytelling with the spectacle China Goes Pop.
The show sees the Shandong Acrobatic Troupe and the China Arts Entertainment Group put through their paces by choreographer Patti Colombo and director Shanda Sawyer, who is known for the stage production of The Marvel Universe.
The Shanghai Theater Academy will put on an experimental Peking Opera adaptation of Anton Chekhov's one-act play The Fools at Grassmarket from Saturday to Monday.
Shenzhen musicians' collective the Alliance Art Group will put on New City New Sound, a crossover concert that mixes Chinese folk with world music, at the Royal Terrace on Sunday and Monday.
The Zhuo Pei Li Cantonese Opera Workshop takes its adaptation of "The Scottish Play", Shakespeare's Macbeth, to the New Town Theatre on Monday and Tuesday. The Shaanxi Performing Arts Centre's Treasure Trove of Shadows follows the rugged life of a Chinese puppet master during World War II. It runs from Aug 20-28 at C Venues.
The Scotland China Chamber of Commerce has organized a Chinese arts and culture festival that will run at Venue 150 on Aug 12 and 13. It will feature the Dancers Association China and the Wuhan Peking Opera Troupe.
Two Chinese primary school theater groups, a student art society from Beijing, the None Drama Studio, and singer Yi Dong will also represent China at this year's festival.