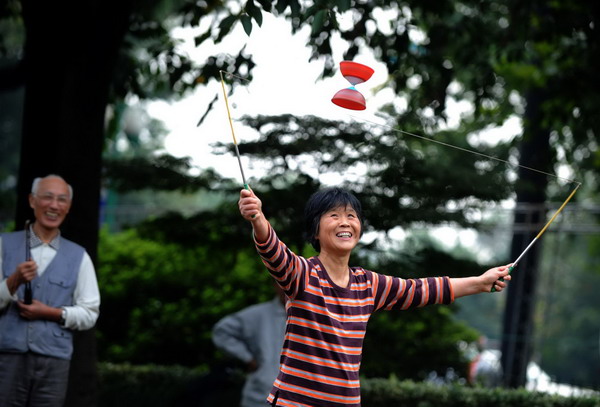 A senior citizen plays diabolo by the West Lake in Hangzhou, capital of East China's Zhejiang province, Oct 15, 2010. (Photo/Xinhua)
The life expectancy of Chinese people has risen to 76.34 years old in 2015, an extra 18 months longer than in 2010, the National Bureau of Statistics revealed in the latest statistics on Tuesday.
That makes the average Chinese person's life 4.74 years longer than the world average.
Chinese women's life expectancy reached 79.43 years old, 2.06 years older than in 2010, while men die earlier at 73.64 years old. That's a 1.26-year improvement from 2010, showing women's life expectancy is growing faster than men's, in line with the global trend.
Around the world, life expectancy was 79.28 years in high-income countries in 2015, 74.83 years old in upper middle-income countries, 67.48 years in lower middle-income countries and just 61.8 years in low-income countries, according to the World Bank.
The National Bureau of Statistics said Chinese life expectancy exceeded that of upper middle-income countries, reflecting China's remarkable gains in medical care and living standards.
In terms of health, 40.5 percent of seniors were healthy, 41.85 percent were healthy with minor diseases, 15.05 percent had diseases but still have self-care ability, and 2.6 percent could not take care of themselves.
The National Bureau of Statistics said the statistics show Chinese seniors are generally in good health.
It also noted that the two-child policy is taking effect as the number and percentage of newborns increased.
In 2016, 17.86 million babies were born, 1.32 million more than the average number of newborns each year between 2012 and 2015.
The birth rate of 2016 was about 1.3 percent, up 0.09 percent from 2012.
The figures also show that the ratio of Chinese men to women has narrowed from 117.7 in 2012 to 113.5 in 2015. The bureau said the ratio was normalizing, which will promote a long-term balanced population development.