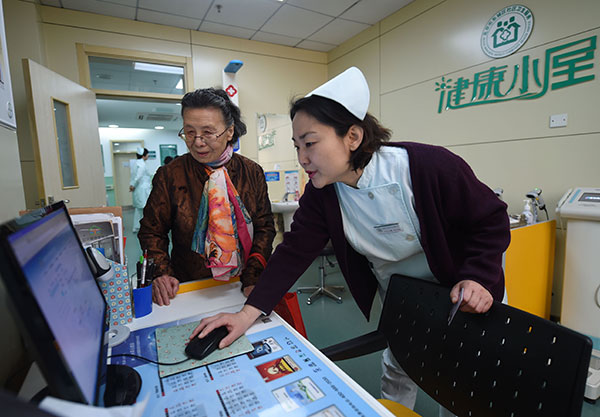 A patient is given her physical checkup results at a community medical service center in Beijing in April, after a comprehensive medical reform started in the capital.(Wang Xin/For China Daily)
On Tuesday, the Ministry of Human Resources and Social Security announced that after its negotiations with the manufacturers of 44 pharmaceutical drugs, the prices of 36 of them had been cut and put into the list covered by the medical insurance fund. Xkb.com.cn comments:
The 36 drugs share two points in common: First, they were so expensive that ordinary patients could hardly afford them; second, they are necessary for certain illnesses and there is no substitute for them. For example, half of the 36 drugs are used to treat six types of cancer, including breast, lung and liver cancer.
There have long been calls for these expensive drugs to be covered by the national medical insurance fund. However, their previously high prices made it impossible for the fund to cover them.
The only possible solution was for the government to negotiate with the pharmaceutical manufacturers and persuade them to lower their prices so the medical insurance fund could afford to cover them. That's what the Ministry of Human Resources and Social Security has done.
It should be noted that the government has a unique advantage in the negotiations-a huge potential market. When a drug is covered by the medical insurance fund, its sales will doubtlessly rise because more patients will be able to afford it. That's a major reason why the pharmaceutical manufacturers agreed to cut their prices.
Therefore, everyone benefits from the success of the negotiations. Patients benefit because they can get the medicine they need at lower prices, and the medical insurance fund reimburses much of the cost.
The pharmaceutical enterprises benefit, too, because the sales of their products will be promoted and their market will expand. Even with lower prices, they will make more profit.
The medical insurance fund benefits, too, because it both saves money, and it can help more people in need. The successful negotiations are a good outcome of the ongoing medical reform and we hope there are more successes to come.