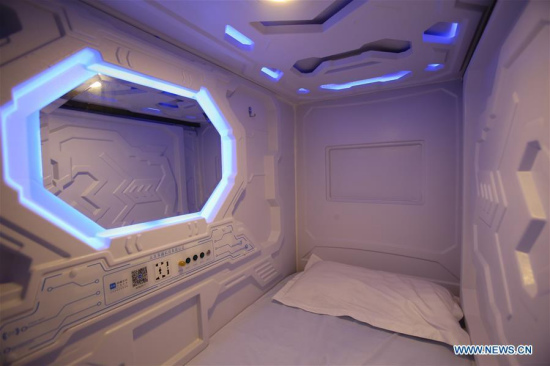 The photo taken on July 14, 2017 shows a shared compartment in Shanghai, east China. (Xinhua/Du Xiaoyi)
Shared capsule beds for napping, the latest novelty in China's sharing economy, have been temporarily shutdown over safety concerns, just over one month after their launch.
According to Beijing police, a total of 16 napping pods in the city's office buildings have suspended operations after "the capsules may become a shelter for criminals because users don't need to check in with their ID cards." Meanwhile, the confined space may pose a fire risk, they said.
The service, which targeted sleep-deprived workers in busy Chinese cities, was also suspended in the cities of Shanghai and Chengdu.
Shanghai police told Xinhua that the napping pods functioned like a hotel but did not secure the relevant safety licenses or permits.
By scanning a code with their phone, customers could reserve a white capsule for just 10 yuan (1.5 U.S. dollars) for half an hour during the busy period between 11:00 a.m. and 2:00 p.m. The rate dropped to only six yuan at other times.
Each napping pod was equipped with an electric fan, reading light and USB port. Users received a disposable bed sheet, pillow cover and blanket before they climbed into the capsule for a refreshing nap. The pod was automatically disinfected by ultraviolet light after each use.
Dai Jiangong, CEO of Beijing Xiangshui Technology which is behind the shared sleeping pods, told Xinhua that the shutdown is temporary.
"Local authorities will allow us to make some adjustments and then reopen," said Dai. "For example, we will install a smoke detector in the capsule. We are also discussing changes to our business model."
Dai hopes the shared capsules can be reopened within the next two months.
A report released by the State Information Center predicted that the sharing economy will grow at an average annual rate of 40 percent over the next few years and will account for more than 10 percent of the country's GDP by 2020.
Inspired by the success of bike-sharing companies like Mobike and Ofo, China's booming sharing economy has encouraged a wave of "sharing" enterprises.
Their enthusiasm was also boosted by the country's decision to facilitate the healthy development of the sharing economy. The sector will enjoy easier access, greater policy transparency, and better protection of legitimate rights of platform companies, resources providers, and consumers.
Chinese people are now likely to share everything from bikes, power banks or basketballs to umbrellas.
Qu Wenyong, government management professor with Heilongjiang University, said that the sharing economy will have a promising future amid the country's efforts to promote mass innovation and entrepreneurship.
However, the industry also contains risks. Two bike-sharing platforms, Wukongbike and 3Vbike, have already closed operations in June due to rising cost burdens and lost bikes.
"The sharing economy is in a transitional period," said Qu. "The emerging sharing business models will be finally examined by the market."