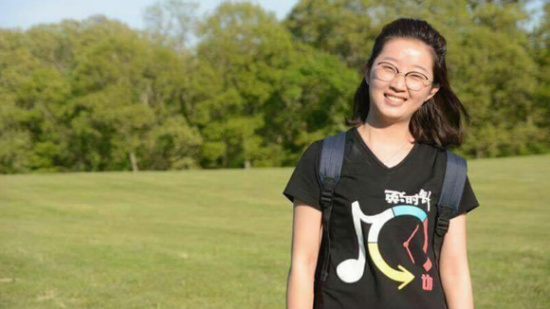 Zhang Yingying. (File photo released by police)
A federal grand jury Wednesday returned the indictment that charges Brendt Christensen with kidnapping Chinese visiting scholar Yingying Zhang of the University of Illinois at Urbana-Champaign(UIUC).
Acting U.S. Attorney Patrick D. Hansen and the Federal Bureau of Investigation (FBI) Special Agent in Charge Sean Cox of the Springfield Division announced the indictment return Wednesday on the website of the U.S. Department of Justice.
The preliminary hearing that had been scheduled on July 14 for the case has been cancelled. And the date for Christensen's arraignment will be scheduled by the U.S. Clerk of the Court in Urbana, where the UIUC is located.
The indictment alleges that Christensen kidnapped Yingying Zhang on June 9. The penalty for kidnapping is up to life in prison if convicted.
Christensen was previously arrested and charged by criminal complaint on June 30. On July 5, U.S. Magistrate Judge Eric Long ordered that Christensen remain detained in custody pending trial.
The 28-year-old man was enrolled as a PhD candidate in experimental condensed matter physics by the UIUC, but it was not clear if he was still studying at the university when he was arrested.
Zhang, 26, went missing on June 9 after she got into a black Saturn Astra about five blocks from where she got off a bus on her way to an apartment complex to sign a lease.
According to an affidavit previously filed with the court, the car allegedly driven by Christensen had stopped next to Zhang at an intersection in Champaign, and then pulled away.
Zhang had just arrived at the University of Illinois in late April.
The FBI, University of Illinois Police Department and the Illinois State Police are continuing the investigation.
U.S. law enforcement investigating Zhang's case believe Zhang is deceased, based on facts presented in court and court documents and other facts uncovered during the ongoing investigation.
Assistant U.S. Attorneys Bryan Freres and Eugene Miller are representing the government on behalf of the U.S. Attorney's Office, Urbana Division, in this case.
The U.S. Attorney's Office, Urbana Division, reminds the public that an indictment is merely an accusation, and the defendant is presumed innocent unless proven guilty.