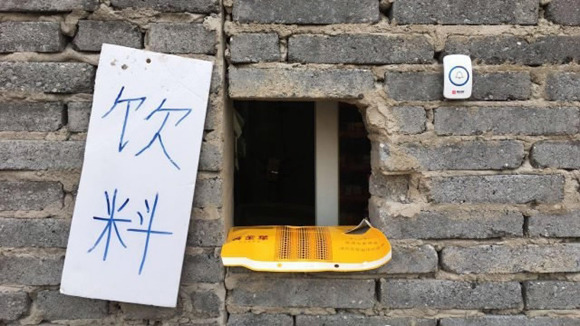 (Photo/CGTN)
After a little more than a month of operation, Beijing's tiniest convenience store, which only consists of a shopping window the size of a football, sealed its "door" and shuttered its unlicensed business on Monday.
Dubbed by netizens as the "smallest shop" in the Chinese capital, the convenience store situated steps away from the exit of subway station Beigongdaximen.
Instead of a main entrance, the store operated through a hole in the wall measuring approximately 20 centimeters in height and width. All transactions were made through the dark tunnel, where money was handed in and food and drinks were sent out.
To entice customers, the shop owner hung a sign reading "soft drinks" beside the window. A door bell was available on the other side to call for service.
On Monday, however, many passers-by noticed the store window was sealed up with bricks and concrete.
A staff member from the Food and Drug Administration of Beijing Chaoyang District told Beijing Youth Daily the convenience store was urged to close because it operated without a license.
But where exactly is the actual store that kept all its merchandise?
It turned out the mysterious store was hidden in a one-story bungalow located at a backyard behind the wall.
The courtyard also served as a distribution service for several supermarkets, so the owner took the chance to start a personal business.
When the shop owner was urged by the authorities to close down the shop, he accepted without any complaints.
"I intentionally left that hole when building the wall, in order to do business," he confessed. "And I know my shop affected the surrounding environment, so I accepted closing the store."
"I've seen litter scattered around when the shop was open," one passer-by said.
This year, the area saw major crackdown on illegal construction.
Commercial establishments converted from first-floor residences were urged to close down, but this shop owner certainly "dug" his own creative way out of regulations and tried to continue with business as usual.