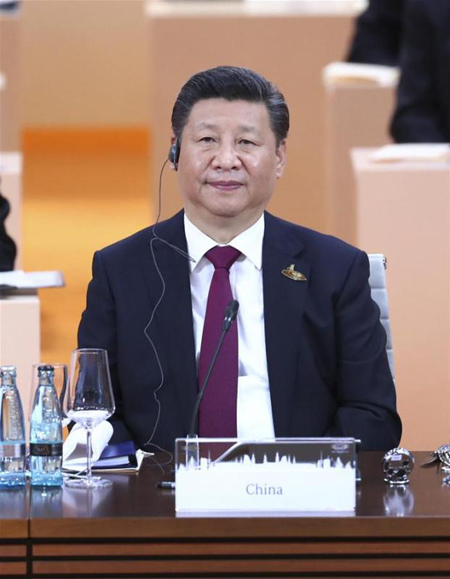 Chinese President Xi Jinping attends the 12th Summit of the Group of 20 (G20) major economies in Hamburg, Germany, July 7, 2017. (Xinhua/Xie Huanchi)
Nearly one year after offering a Chinese remedy for the world's ailing economy and global governance in eastern China's lakeside city Hangzhou, President Xi Jinping has promised to champion an open world economy and a multilateral trade regime.[Special coverage]
Speaking at the G20 summit in Hamburg Friday, Xi underscored the role of innovation and development in boosting global growth, proposing that G20 members increase cooperation in digital economy and the new industrial revolution, and jointly develop new technologies, industries, business models and products.
He called on the leaders to "work together to promote interconnected growth for shared prosperity and build toward a global community with a shared future."
CHARMING THE WORLD
Xi's speech came on the first day of G20 summit in Hamburg, which has been designed to shape an interconnected world.
He said the theme of this year's summit was built on the theme of last year's summit in Hangzhou: building an innovative, invigorated, interconnected and inclusive world economy.
"What we need to do now is to work together to translate our vision into action," Xi told leaders of the world's major economies in the port city in northern Germany.
"As the world's major economies, we should and must lead the way, support the multilateral trading system, observe jointly established rules and, through consultation, seek all-win solutions to common challenges we face." Xi said.
In the past few years, the world has become more and more familiar with Xi conferring with heads of state from across the world as well as leaders of international organizations to offer Chinese solutions and his personal insight on global challenges.
In particular, the Hangzhou G20 summit last year marked China's shifting role as it transforms from a player in global affairs to a leader of the global agenda -- economically, politically and diplomatically.
With China set to host the 2017 BRICS Summit in Xiamen in September, analysts have noted that the past few years have seen China championing on multiple international stages a holistic approach to global development and governance, which highlights joint, global efforts and acknowledges that domestic well-being relies on the international community at large.
China has become much more confident on the global stage, said Wang Jiugao, professor with Peking University's School of Marxism.
"Xi Jinping's words on various occasions show to the world that China is open and responsible, willing to work with the world both as a participant and a leader," Wang said.