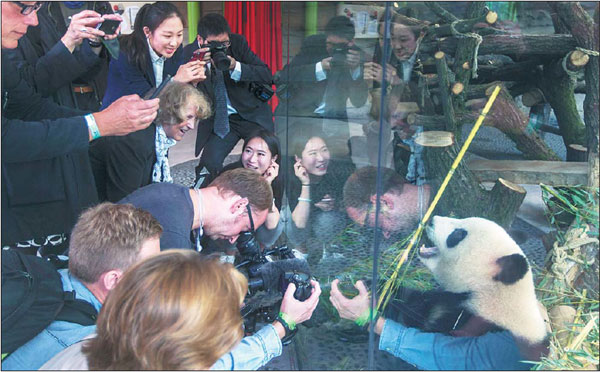 Meng Meng, a female panda from the Chengdu Research Base for Giant Panda Breeding, has become a popular star at the Berlin Zoo in Germany.Fei Maohua / Xinhua
Pair of giant pandas from Sichuan research base play new roles as cultural ambassadors to Europe
Two giant pandas from the Chengdu Research Base for Giant Panda Breeding have recently arrived in Germany's Berlin Zoo to embrace a new life in their refurbished Chinese-style Panda Garden.[Special coverage]
The 4-year-old female panda Meng Meng and the 7-year-old male Jiao Qing are adapting well to their new environment, said Yin Hong, a Chinese panda keeper who accompanied the pair all the way from the research base in the southwestern Chinese city of Chengdu in Sichuan province to Berlin.
"After just one night's rest after their arrival, their appetite has quickly returned on the second day and they have been very responsive to instructions given to them," said Yin.
Andreas Knieriem, head of the Berlin Zoo, said that the zoo will do its utmost to make the pandas feel at home.
"We have invested a total of 100 million euros ($114 million) to build a new garden for them and will cooperate with scientists from Chengdu to conduct research on giant pandas."
Covering an area of more than 5,500 square meters, the new home for Meng Meng and Jiao Qing is designed with Chinese characteristics with spacious greenery, man-made rivulet and climbing facilities. They will have private rooms and separate outdoor spaces.
Zhang Zhihe, head of the Chengdu Research Base for Giant Panda Breeding, said the age difference between Meng Meng and Jiao Qing is perfect for breeding and they will soon have babies in Germany.
Knieriem added that the zoo had sent its top bear experts to Chengdu to study the pandas' life habits and breeding techniques.
"This year marks the 45th anniversary of the establishment of diplomatic ties between China and Germany.
"People in Germany have a special affection for giant pandas. In my eyes, pandas are a symbol of peace and friendship, and can remind people of the necessity of nature conservation," Knieriem noted.
Set up in 1987, the Chengdu Research Base for Giant Panda Breeding is now home to 176 captive pandas as a result of Chinese researchers' efforts to solve the primary obstacles hindering the mating of pandas and the survival of their cubs in captivity.
In 2008, the research base built a wild animal research center in Dujiangyan, Sichuan province, and began studying wild pandas and training for care of captive giant pandas in 2014. To better protect the wild giant pandas, Chengdu will establish a 1,616-square-kilometer giant panda park on Longmeng Mountain in the northwest of the city in the near future.
Another bilateral communication between the two sides is a panda-themed cultural exhibition held in Berlin.
Named The Panda and the World - Artistic and Cultural Achievements of Giant Panda Protection in China, the event kicked off on July 5, with a total of more than 20 items including photography, bronze sculpture, print painting, paper cutting, plaster sculpture and installation art.
The artworks of the expo are all based on pandas and created by artists from China, Germany and other countries.
A virtual reality experience center is set to simulate the living environment of giant pandas and enhance interaction with the audiences.