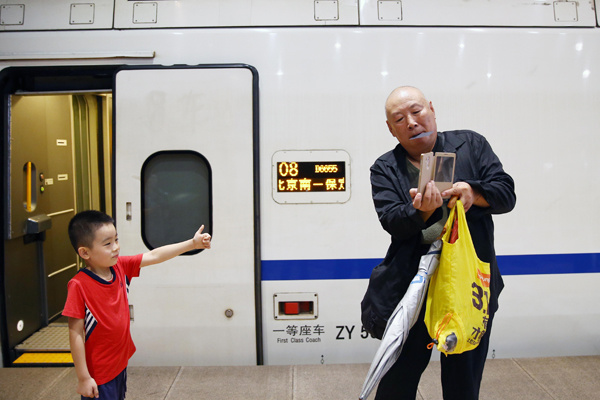 A passenger takes a photo of his grandson at Beijing South Railway Station on Thursday before they board a bullet train heading to Baigou in Hebei province. ZOU HONG/CHINA DAILY
The first bullet train linking Beijing and the Xiongan New Area departed from the Beijing South Railway Station on Thursday.
It was the first of four high-speed services scheduled to run daily. The journey takes 1 hour and 50 minutes.
The D6655 left at 8:08 am and made its first stop after 80 minutes at the new area's Baiyangdian Railway Station. The train's terminal is Baoding Railway Station in Hebei province, where it arrived at 9:58 am.
The return train departed Baoding at 10:26 am and arrived in Beijing at 12:29 pm.
A passenger, surnamed Xiao, took the first train from Baiyangdian to Beijing. He said the service is convenient, saving time and energy.
The service also stops at Bazhou West, Baigou and Xushui stations, which are all in Hebei.
"Passengers no longer need to transfer trains to travel between the new area and Beijing," said Zhu Dianping, an official at the Beijing Railway Bureau's station management center.
"Before the bullet train service existed, passengers traveling from Baigou or Baiyangdian to Beijing, had to transfer in Baoding or Tianjin, which cost 82 yuan or 97 yuan ($12 or $14) respectively," Zhu said, adding that the ticket fare for an economy seat on the bullet train from Baiyangdian to Beijing is 45 yuan.
Since the establishment of the new area was announced in April, Baiyangdian has received more visitors.
"Baiyangdian Railway Station handled 500 trips a day last year. The number has increased to 800 this year, and the daily peak reached 2,000 during the May Day holiday," said Lu Huijuan, deputy head of Baiyangdian Railway Station.
"Most visitors from Beijing used to take the freeway to get to Baiyangdian, meaning traffic congestion was terrible during weekends or holidays," Lu said, adding that she expects rail passenger numbers to grow.
A taxi driver in Xiongan New Area surnamed Liu said he believes the bullet train service will encourage more people to visit.
Liu used to give rides to three or four customers a day, but since the establishment of the new area, he now has about a dozen clients each day.
"They usually head to Baigou and Baiyangdian on business trips or to travel," he said.
Located about 100 kilometers southwest of downtown Beijing, Xiongan New Area will mostly cover Xiongxian, Rongcheng and Anxin counties in Hebei.