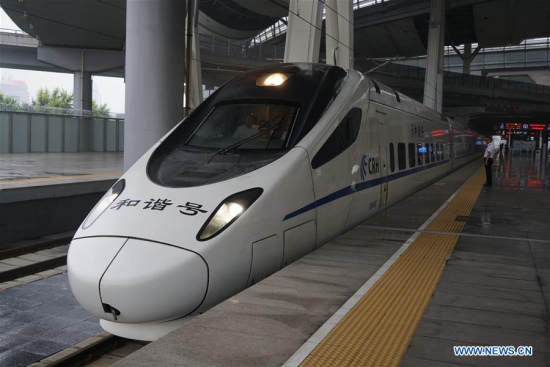 Bullet train D6655, which runs from Beijing, capital of China, to Baoding City in Hebei Province, leaves the Beijing South Railway Station in Beijing July 6, 2017. (Xinhua/Xing Guangli)
High-speed trains Thursday started operating between Beijing and Xiongan New Area, a new development area southwest of the capital, railway authorities said.
Two bullet trains will run daily between Beijing South Railway Station and Baoding, Hebei Province, near Xiongan New Area. A one-way trip takes 80 minutes.
The trains will facilitate travel between Beijing, Xiongan and neighboring cities.
China announced plans to establish Xiongan New Area in April.
Located some 100 km southwest of downtown Beijing, it will cover Hebei's Xiongxian, Rongcheng, and Anxin counties.