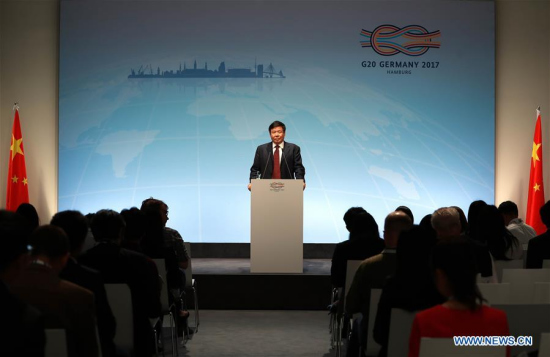 Chinese Vice Minister of Finance Zhu Guangyao addresses a news briefing prior to G20 Summit in Hamburg, Germany, on July 6, 2017. (Xinhua/Luo Huanhuan)
China is expecting that the upcoming G20 Summit scheduled to kick off on Friday in northern Germany city of Hamburg can reach consensus on free trade, Chinese Vice Minister of Finance Zhu Guangyao said Thursday.[Special coverage]
Addressing a news briefing in Hamburg, Zhu said the summit is important for members to enhance coordination in macro policy, and use fiscal and monetary policies as well as structural reform to achieve a healthy and sustainable development of global economy.
He said during last year's Hangzhou summit, the G20 leaders established the principle of supporting a multilateral free trade regime that is transparent, rule-based, and with WTO as its core.
"Different countries benefit from the free trade at different stages. The important task for us right now is to balance the relationship between free trade and the principle of equality," he said.
"We are confident that important consensus can be reached after in-depth discussions at this year's summit," he added, noting that China has always been participating in, supporting and contributing to as well as benefiting from the current global trade system.
As a supporter for economic globalization, Zhu said China, through the Belt and Road Initiative and strengthened cooperation on building a community of shared future for all mankind, is ready to work with various parties in the international arena to bring more benefits to people around the world.
On climate change, Zhu said China will firmly promote its policies and taking measures to fight climate change.
"We should honor our commitments and take concrete actions. Our goal remains the same, that is to enhance the solidarity among us and make joint contribution for a better home for us," he said.
"We hope we can reach consensus at this year's summit, and this consensus should be made by all members," he added.
The Chinese official also hailed the efforts Germany has made to ensure the success of this year's summit.
He said in terms of finance, three important issues proposed by German finance ministry and central bank -- resilience of the economy, promotion of investment, especially in Africa, and digitalized economy -- are extensions of last year's Hangzhou summit, and are supported by China and other G20 members.
"China highly appreciates the efforts made by German government and Chancellor Merkel in preparation of this year's summit. We believe, with Germany's presidency, this year's summit will be a full success," he said.
Themed "Shaping an interconnected world," the Hamburg summit will focus on topics of economic, financial, trade, climate, and development policy. Other issues like digital technology, migration, and counter-terrorism will also be discussed.