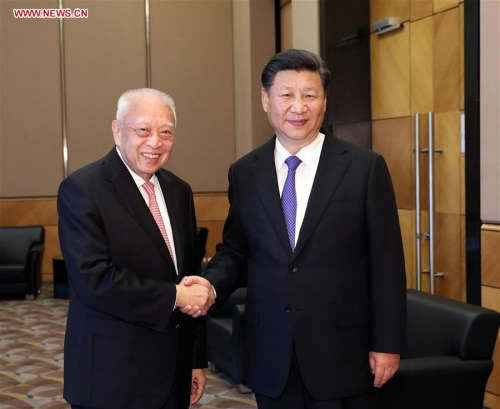 Chinese President Xi Jinping (R) meets with Tung Chee-hwa, vice chairman of the National Committee of the Chinese People's Political Consultative Conference, in Hong Kong, south China, June 30, 2017. (Xinhua/Ma Zhancheng)
President Xi Jinping met with Tung Chee-hwa, the first chief executive of the Hong Kong Special Administrative Region (HKSAR), Friday, calling him "a pioneer" in practicing "one country, two systems" in Hong Kong.[Special coverage]
Xi praised Tung for the large amount of trailblazing work he has done in this regard.
Tung, now vice chairman of the National Committee of the Chinese People's Political Consultative Conference (CPPCC), became the first chief executive of the HKSAR when Hong Kong returned to China from British rule on July 1, 1997.
As vice chairman of the CPPCC National Committee, Tung has continued to dedicate himself to the development and progress of the country and Hong Kong, Xi said, adding that Tung has set a good example for his successors.
The president expressed his hope that Tung could continue to play a positive role in the development of the country and Hong Kong in the future.
Tung said he is confident in the sustained prosperity and stability of the HKSAR under the "one country, two systems" principle, and he would do what he can to contribute more to the country and Hong Kong.
Xi arrived here Thursday to attend celebrations for Hong Kong's 20th return anniversary and the inauguration of the HKSAR's fifth-term government. Inspection of the HKSAR is also on the schedule for his three-day stay.