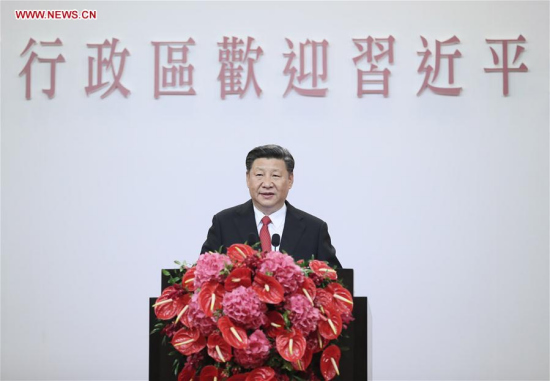 Chinese President Xi Jinping speaks at a welcome dinner hosted by the government of the Hong Kong Special Administrative Region, in Hong Kong, south China, June 30, 2017. (Xinhua/Lan Hongguang)
President Xi Jinping Friday called on Hong Kong to leverage its institutional advantage of "one country, two systems" to create new growth drivers and new space for development.[Special coverage]
Hong Kong is blessed with many favorable conditions and unique strengths for development, Xi said when addressing a welcome dinner hosted by the government of the Hong Kong Special Administrative Region (HKSAR).
"Hong Kong is an important international financial, shipping and trade center, a major conduit connecting the mainland and international markets and a two-way service platform for China both to attract foreign investment and enter the international market," Xi said.
More importantly, the practice of "one country, two systems" has given Hong Kong an "institutional advantage," enabling it both to share in the mainland's vast market and development opportunities and often serve as a testing ground for the country's new opening-up initiatives, he said.
By building on and leveraging its strengths, Hong Kong will surely be able to seize opportunities presented by economic globalization and regional cooperation to promote innovative local business start-ups, and develop new growth drivers, he said.
"The motherland has given and will always give a strong backing to Hong Kong," the president said.
Xi arrived in Hong Kong Thursday for a three-day trip to attend celebrations marking the 20th anniversary of Hong Kong's return to the motherland and the inauguration of the fifth-term government of the HKSAR. Inspection of the HKSAR is also on his schedule.