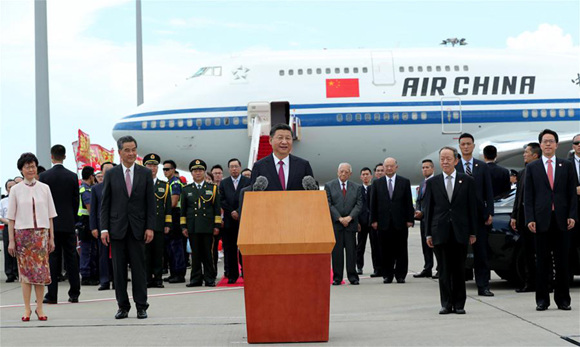 Chinese President Xi Jinping speaks upon his arrival in Hong Kong, south China, June 29, 2017. Xi is here to attend celebrations marking the 20th anniversary of Hong Kong's return to the motherland, and the inauguration of the fifth-term government of the Hong Kong Special Administrative Region (HKSAR). (Xinhua/Ma Zhancheng)
"Hong Kong's development has always pulled at my heartstrings," Chinese President Xi Jinping said here Thursday, just two days ahead of the 20th anniversary of Hong Kong's return to China.[Special coverage]
"I'm pleased to have set foot in Hong Kong once again after nine years," Xi said on his first trip to the Asian financial hub as China's top leader.
"Hong Kong's development has always pulled at my heartstrings," he said, adding that he was looking forward to experiencing in person new changes Hong Kong had undergone over the years.
Xi arrived at the Hong Kong International Airport on Thursday.
He and his wife Peng Liyuan were greeted by a group of high-ranking officials at the airport, including Hong Kong Special Administrative Region (HKSAR) Chief Executive Leung Chun-ying and Chief Executive-elect Lam Cheng Yuet-ngor.
The Chinese president's three-day tour in Hong Kong will see him attend celebrations marking Hong Kong's 20th return anniversary and the inauguration of the HKSAR's fifth-term government. He will also inspect the HKSAR.
Celebrations scheduled for the next few days to mark the occasion include artistic performances, a fireworks display and a flag-raising ceremony among others.
Already, streets of Hong Kong are decorated with Chinese national flags and HKSAR flags, while outdoor big screens carried celebrating messages.
"I believe that through the series of events to be staged in Hong Kong, our determination and confidence in developing and building a better Hong Kong will surely be enhanced," he said.
According to Xi, the upcoming return anniversary would be an important as well as joyous occasion for both the country and Hong Kong.
He said his Hong Kong tour would serve to express best wishes for the HKSAR, showcase the central government's support for Hong Kong, and help the region plan its future.
Xi congratulated the HKSAR on the great achievements it has made over the past 20 years since its establishment, and encouraged the HKSAR to create new glory.
The central government, which has offered strong backing for Hong Kong in the past 20 years, will as always support the HKSAR in growing its economy and improving people's well-being, Xi said.
He also said he would join people from all walks of life in Hong Kong to review the SAR's extraordinary 20-year journey, sum up its experience and plan the future to ensure the smooth and long-term successful practice of the "one country, two systems" policy.
FIRM COMMITMENT
The Chinese president has more than once stressed the central government's commitment to the "one country, two systems" principle during his first day in Hong Kong.
On Thursday afternoon, Xi, accompanied by outgoing HKSAR Chief Executive Leung Chun-ying, met with senior figures of the SAR's executive, legislative and judicial bodies.
During the meeting, Xi said the practice of "one country, two systems" has been very successful in Hong Kong.
The concept has led to Hong Kong's peaceful return to China, a rare case in Chinese and foreign histories, where lost lands were mostly recovered by force, he said.