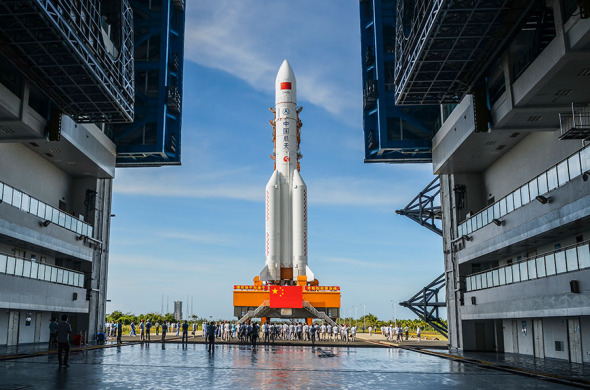 A Long March 5-Y2 rocket is seen at the Wenchang Space Launch Center in Hainan province on Monday.Wei Jinghua / For China Daily
Long March 5 is also expected to send lunar probe later this year
A Long March 5 heavy-lift carrier rocket will take flight sometime between July 2 and 5, following the first launch of the model in November, according to Chinese space officials.
The China National Space Administration said the Long March 5-Y2 rocket, carrying the Shijian 18 communications satellite, was moved to its launch pad at the Wenchang Space Launch Center in Hainan province on Monday morning.
The name Y2 indicates it is the second mass-production rocket in the Long March 5 family.
A news release from the administration said engineers will conduct final tests and inspections before pumping fuel into the rocket.
The 57-meter rocket, the longest in China's carrier rocket family, was transported in April by two ships, Yuanwang 21 and Yuanwang 22, to Wenchang from the production facility in Tianjin.
It is China's mightiest and most technologically advanced launch vehicle. As China's first-generation heavy-lift rocket, the Long March 5 has a liftoff weight of 870 metric tons, a maximum payload of 25 tons to low-Earth, and a payload of 14 tons to a higher orbit known as geosynchronous transfer orbit.
The rocket has two core stages and four boosters. Its propellants are liquid oxygen with kerosene, and liquid oxygen with liquid hydrogen, which means the rocket is friendlier to the environment than previous Long March types, according to its developer, the China Academy of Launch Vehicle Technology.
The Long March 5 performed its maiden flight in November at the Wenchang center, lifting the Shijian 17 scientific experiment satellite and a Yuanzheng 2 upper stage. An upper stage is a spacecraft capable of putting multiple payloads into different orbits during a single mission.
The third mission for the Long March 5, set for later this year, will send the Chang'e 5 lunar probe to the moon. The 8.2-ton probe, which consists of four components - orbiter, lander, ascender and re-entry module - will soft-land, using small rockets to slow its descent to the lunar surface. It will collect and bring 2 kilograms of lunar soil and rock samples back to Earth.
In the future, the rocket will place China's manned space station into orbit and send unmanned probes to Mars.