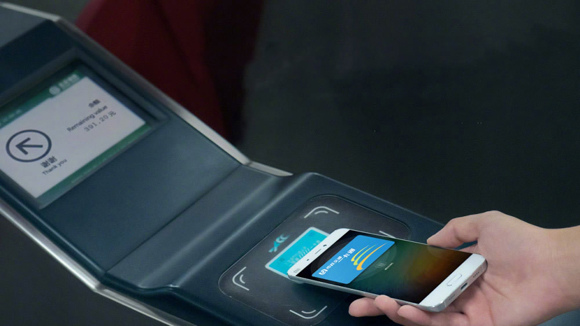 Beijing subway allows users to swipe their phones to ride the train. (Photo/CGTN)
Beijing subway system launched a trial of its new smartphone travel card on Monday, allowing users to swipe their phones just like a travel card to ride the train.
Beijing's subway card – Yikatong – was born in 2006 and can also be used on buses and even in some shops.
And now the explosion of different uses for smartphones has seen transport authorities in the capital launch a mobile version of the card which can be integrated into commuters' cellphones.
But how can your phone work as a travel card? The secret lies in technology called NFC (near-field communication).
A lot of modern cellphones contain an NFC chip to simulate the "beep" associated with cards like the Yikatong, allowing users to replace all their physical cards with their phone.
Starting Monday, subway travelers in the Chinese capital with NFC-enabled phones can leave their physical travel card at home and use their smartphone instead, Beijing Municipal Administration and Communications Card (BMAC) said.
Previous solutions
NFC is not new technology. As early as 2013, some Beijingers managed to utilize NFC-enabled SIM card to get on the subway.
A number of domestic cellphone manufacturers such as Xiaomi and Huawei reached a cooperation deal with the BMAC to integrate the card into their phones.
Most of these phones came onto market in early 2016.
No to iPhone
However, while the new move will come as a pleasant surprise to the city's millions of subway customers, it's bad news for iPhone users.
Apple didn't reach a cooperation agreement with subway authorities in China and while some iPhones do have NFC chips, they are locked by Apple to function only with the Apple Pay service.
Beijing subway said the mobile pass function does not support iPhone because of Apple's restrictions.
But the good news for iPhone users is that Apple is opening up. During this year's Worldwide Developers Conference, Apple hinted it would permit more apps to access the iPhone's NFC chip.
But iPhone users in the Chinese capital will have to wait for the iOS 11 software update to find out whether they can use their cell to hop onto the subway. Until then, they'll have to stick with their trusty Yikatong.