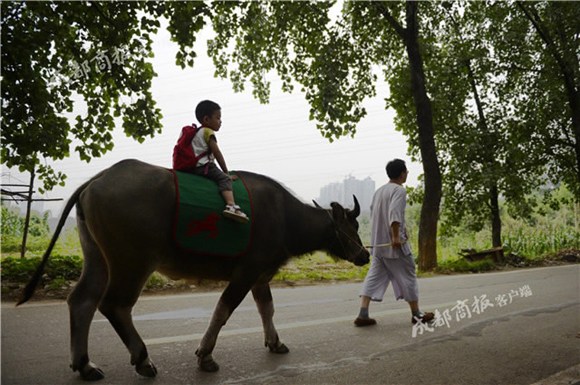 A 3-year-old child rides on the back of an ox to preschool with his father leading the rope walking ahead. (Photo from Chengdu Business Daily)
What is the most luxurious way one can enjoy a ride in big cities? Not a sport car or a limousine to your expectation, but something much more eye-catching.
Photos of a three-year-old child on the back of an ox to preschool with his father leading the rope walking ahead have become an online sensation on Chinese social media.
In fact, the boy started this unique way of going to kindergarten last winter, which is about three kilometers away from home, in Chengdu, the capital city of southwest China's Sichuan Province.
(Photo from Chengdu Business Daily)
A donkey and a pony is also part of the kid's transportation modes, which are all kept by his father Li Li, a follower of ancient Chinese civilization, who believes traditional culture should be part of daily life.
"When he rides the ox or the donkey, he is able to interact with the animal," Chengdu Business Daily quoted Li Li as saying.
"It is a way to promote communication between me and my son. l will impart my knowledge about seasonal plants, as well as reciting poems to him."
The mother of the the kid was worried that her son would fall off the animal, "I normally don't go along as my husband picks up my son with an ox or a donkey. I am afraid that the ox would be frightened."
But Li Li thinks differently, "Ox and donkey are relatively stable to ride on. Children nowadays are too spoiled, they should be taught to be courageous. "
Fortunately, it has been safe so far. China's regulations do not forbid using horses, ox, or other animals for a ride on roads, but advise to walk on non-vehicle lanes.
However, animals on roads do pose safety threats to other people, so they are asked to leave if spotted by police.
On China's leading social media platform Weibo, people have expressed mixed opinions towards the news. User Shouxizhentan questioned, "is there any correlation between Sinology and riding an ox?"
While others show support to the father's way of teaching. User Banxianyeshixianle said, "Learning Chinese culture is better than playing online games. I am envious to the dad."
At the same time, commentaries from Beijing's Legal Daily and Henan Daily in central China criticize the father saying following the lifestyle of ancient people is only a formality, which is not conducive to cultural inheritance.