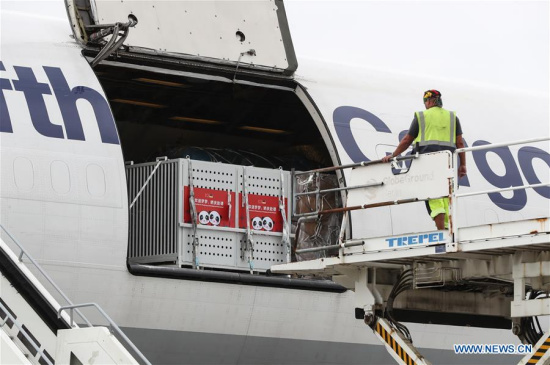 A working staff prepares to unload the cage carrying panda "Jiao Qing" from China at an airport of Berlin, capital ofGermany, on June 24, 2017. A pair of pandas have arrived here Saturday, making German public able to visit the animal species again at home after five years. (Xinhua/Shan Yuqi)
The arrival of a China panda pair in Berlin on Saturday has become a hot topic in the German capital and across the Western European country as TV presenters and local residents rejoiced at the idea of seeing the cuddly bear near home rather than taking a long trip abroad.
The male panda Jiao Qing, born in 2010, and the female one Meng Meng, born in 2013, came from the panda breeding and research base in Chengdu, southwest China.
The panda couple will stay in Berlin Zoo, the oldest one in Germany, for 15 years.
GRAND WELCOME
After a long trip by air accompanied by both Chinese and German vets, Jiao Qing and Meng Meng were greeted by Chinese Ambassador to Germany Shi Mingde and Berlin Mayor Michael Mueller.
"This year marks the 45 anniversary of the establishment of diplomatic ties between China and Germany. I wish that the pandas as the 'ambassador of friendship' would be adored by German people," Shi said while greeting the pandas at the airport.
"We are delighted that Berlin has gained another fantastic attraction with these bears," Mueller said.
Newly constructed "Panda Garden" in the zoo, covering nearly 5,500 square meters and costing nearly 10 million euros (11.2 million U.S. dollars), will be the two pandas' new home.
The panda pair were taken from the airport to the zoo with police protection so they did not have to stop at any red lights. They will take a few days to recover from the air trip and be unveiled to the public on July 6, according to Berlin Zoo.
Regarded as part of a national treasure in China, the panda couple has been applauded by local media as a symbol of "solid partnership with mutual trust, mutual benefit."
Berlin Zoo director Andreas Knieriem told Xinhua earlier in an interview that the zoo has done everything in its capacity to make the panda pair feel at home.
STAR ATTRACTION, FURRY ENVOY
It was not the first time that Chinese pandas travelled to Germany. Former German Chancellor Helmut Schmidt received two pandas, Bao Bao and Tian Tian, as state gifts in 1980 during his visit to China. The pair was welcomed by crowds in Berlin and the zoo even brought fresh bamboo from France to feed them.
The two pandas witnessed the robust development of bilateral relations. China has surpassed the United States to become the largest trade partner of Germany, and also the biggest investor for three consecutive years.
The charm of pandas also enlightened many vital moments in promoting friendship with other countries in China's history.
As early as 685 AD, authorities of China's Tang dynasty once sent pandas abroad to promote relations. After the founding of the People's Republic of China in 1949, Chinese leaders sent a panda named Ping Ping to the former Soviet Union in 1957, showing close ties.
In 1972 when China-U.S. relations started to warm up, the Chinese government gave the United States two pandas, Xing Xing and Ling Ling, as gifts during former U.S. President Richard Nixon's ice-breaking visit to Beijing.
Over 40 pandas are now living overseas, conveying a message of peace and friendship from China to the whole world, and bridging the culture gap between the east and west.
Wherever they go, the pandas never fail to touch people's hearts, regardless nationality and age, and have become special envoys of China carrying blessings.