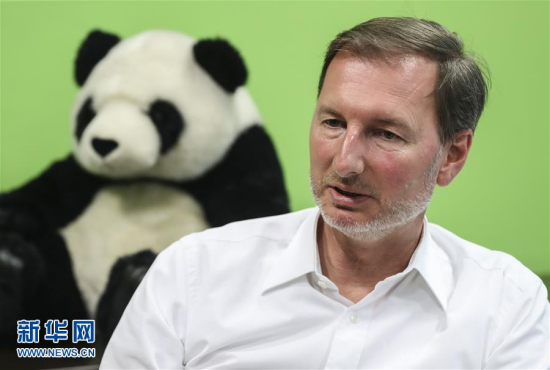 Berlin Zoo director Andreas Knieriem receives an interview in Berlin on June 22. (Photo/Xinhua)
The oldest zoo in Germany is to welcome two new pandas -- Mengmeng and Jiaoqing -- from China this Saturday.
"We are doing our best to make the pandas feel at home here," Berlin Zoo director Andreas Knieriem has told Xinhua.
The panda couple will be leased to the zoo for 15 years.
It has been five years since 34-year-old male panda Baobao died here in 2012. Baobao had been sent by the Chinese government in 1980 as a national gift, along with female panda Tiantian, who died in 1984.
Another panda, Yanyan, who died in 2007, was leased to the zoo in 1995.
"Given the importance of pandas to our zoo, we started the plan to introduce pandas again in 2014," Knieriem said.
The Chinese and German governments agreed on joint panda research in October 2015 and the related preparations followed.
"We have done a lot of work to welcome them, from their food and daily care, to their new living place, to their moving home from China," Knieriem said.
The zoo sent its head bear keeper to Chengdu, the panda's hometown in Southwest China, to study the animal. The chief veterinarian is now there and will accompany the two pandas to the zoo.
Cooperation developed between the zoo and local scientific institutes in Berlin will also "help the pandas live well here", according to Knieriem.
"Panda Garden", the new home constructed for the two pandas, covers nearly 5,500 square meters and costs nearly 10 million euros (11.2 million U.S. dollars). The area the bears are to live in will provide the two pandas enough living space, and accommodate a large number of visitors, Knieriem said.
It will take Mengmeng and Jiaoqing some time to rest and get used to the new life in Berlin after their arrival. The zoo will host a grand greeting party for them next month before the public visit.
"We are very honored to have the chance to have the pandas again," Knieriem said.
The Panda Garden is now near completion. The zoo also started a panda blog on its website, counting down to the pandas' arrival.
Referring to the pandas, Knieriem said: "They are lovely, represent peace and friendship, also remind people of animal reservation conservation."