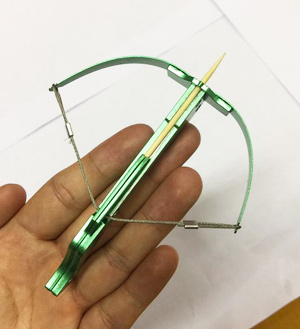 A toy toothpick crossbow. Su Ying/China Daily
A toy resembling a mini crossbow that fires toothpick "arrows" has become popular among school students in parts of China, resulting in many parents calling for a boycott to prevent risks of injury.
The crossbows, available at online shops, vary in size, with some less than 10 centimeters long. They are made of different materials, including metal and wood, and can shoot toothpicks.
They have become popular among primary and middle school students in Yunnan and Shandong provinces, according to media reports.
In Kunming, Yunnan province, students have been targeting trees and flowers alongside roads, as well as park signs, causing many people to file complaints, Metropolis Times reported.
One seller of the toy told the newspaper that when shot from the crossbows the toothpicks can easily shoot through paper and pop a balloon.
A video circulating on the internet shows the toys shooting a toothpick into a tree trunk 3 meters away.
At an online shop based in Zhengzhou, Henan province, 10 cm crossbows with arrows made of metal and toothpicks are available for 29.8 yuan ($4.50) each. According to an advertisement on a web page, they have a range of 15 meters and make good gifts.
In the past 90 days, 652 of the crossbows have been sold, according to the shop.
"Such goods are dangerous and should be banned," one netizen wrote on Sina Weibo. "They may be more powerful than toy guns."
In a statement on Sina Weibo on Monday, the Hunan Provincial Public Security Department said: "We hope teachers and parents can provide guidance to students so such dangerous toys will not cause physical injuries."
Police in Ningbo, Zhejiang province, issued a similar warning.
In April, the police in Chongqing's Jiulongpo district warned against five types of dangerous toys, with those that can shoot projectiles ranked at the top.
Police in the district received 69 reports of injuries to children from toys in the first four months, and more than 21 percent of those were caused by toys such as crossbows, darts and toy guns, the police said.
Such toys should only be played with by children over 12, and when accompanied by their parents, the police said.