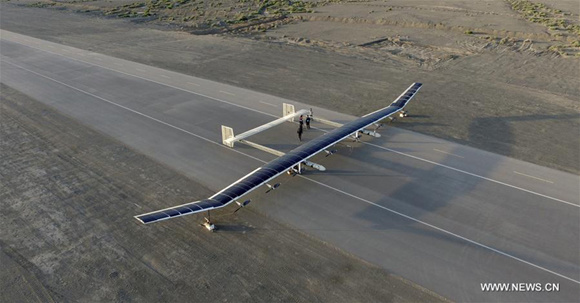 Photo taken on May 24, 2017 shows a solar drone on its test flight. China has successfully tested near-space flight of its largest solar drone. With a wingspan of 45 meters, the solar-powered drone is capable of flying at an altitude of 20 to 30 kilometers, and cruising at a speed of 150 to 200 km per hour for a long time. (Photo/Xinhua)
China's Caihong (CH), or Rainbow, solar-powered unmanned aerial vehicle (UAV), the country's first near-space solar drone, has successfully conducted a flight at an altitude of 20 km.
The project team under China Aerospace Science and Technology Corporation announced Tuesday that the CH UAV, flew smoothly in near space for over 15 hours under control, finishing its scheduled path before landing securely.
FLY HIGHP The near space region, which lies 20 to 100 km above sea level, contains thin air that reduces the performance of traditional fuel-powered aircraft engines.
However, solar drones like the CH UAV can perform well in this area and it is expected that such aircraft may be able to fly continuously for months or even longer in the future, said Li Guangjia, director of the project.
The CH UAV, with a wingspan of 45 meters equipped with solar panels, boasts a high cost efficiency as it does not require refuelling during long-term missions, said Shi Wen, chief engineer of the project.
Also, the solar-powered feature allows the UAV to generate no air pollution, making it environmentally-friendly, Shi said.
With the success of the CH UAV flight, China has become the third country to master near-space solar drone technology following the United States and the United Kingdom.
The United States has developed solar drones such as the "Helios" and the United Kingdom sent its UAV "Zephyr" to an altitude of over 15 km in 2007.
The CH UAV team said the project has overcome challenges in some key technological fields, such as aerodynamics, flight control and efficient use of energy, during its development.
It has taken over one year to solve the issue of precise control in complicated weather conditions to ensure more reliable flight.
"With the development of the CH UAV, new technologies and products such as graphene-related materials, advanced solar cells and innovative energy storage methods will also be developed and these will further promote China's aviation industry," Shi said.