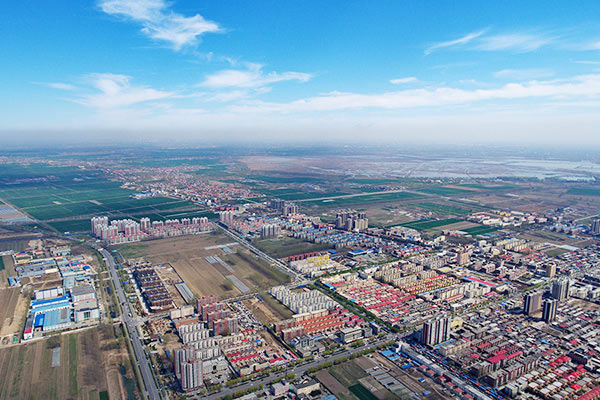 Aerial photo taken on April 1, 2017 shows Anxin county, North China's Hebei province.(Photo/Xinhua)
Beijing and Xiongan New Area will need systematic cooperation to achieve coordinated development and mitigate urban ills, experts said on Sunday.
Lin Jian, a researcher at Renmin University of China's National Academy of Development and Strategy, said Xiongan will take over many functions of Beijing to help the capital ease its population pressure.
"How to attract people to move there will be a crucial task," he said. "The authorities need to make plans in the sectors of education, medical care and cultural development in Xiongan," Lin said. "Beijing can offer its help."
He said many State-owned enterprises, colleges and government institutions will move to Xiongan. The corresponding educational and medical resources should be planned in advance for people who will move there; otherwise, problems could occur, he warned.
"Xiongan cannot be a cultural desert, which means Beijing should also provide cultural facilities to the new area," Lin said.
On Friday, Beijing pledged to closely cooperate and fully support the development of Xiongan and encourage people to move there as needed.
Liu Bozheng, deputy director of the Beijing-Tianjin-Hebei development leading group, said Beijing will cooperate with Xiongan on construction and services, accelerating the relocation of industries that suit the new area.
"The Beijing municipal government attaches high importance to the development of Xiongan New Area," he said.
He said Beijing will assist in planning and policymaking in sectors such as infrastructure construction, transportation integration and the sharing of public services. The capital will also encourage innovative companies to establish themselves in Xiongan.
China announced plans to create Xiongan New Area in April as part the integration of the Beijing-Tianjin-Hebei region. It is designed to ameliorate urban ills such as traffic congestion and air pollution.
Located about 100 kilometers southwest of downtown Beijing, the new area will have a substantial footprint in three existing counties of Hebei province-Xiongxian, Rongcheng and Anxin.
Zhao Weidong, spokesman for the Beijing Municipal Commission of Commerce, said on Friday that Beijing has established a platform to cooperate with Tianjin and Hebei and has transferred some wholesale markets and logistics facilities to Hebei.
The commission promoted 26 projects with a total investment of more than 5 billion yuan ($740 million) last year involving the move of markets and logistics facilities to Hebei.
According to data from the city, Beijing's population and its growth rate has been declining for the past three years. Meanwhile, the city's GDP was up 6.7 percent last year compared with 2015.