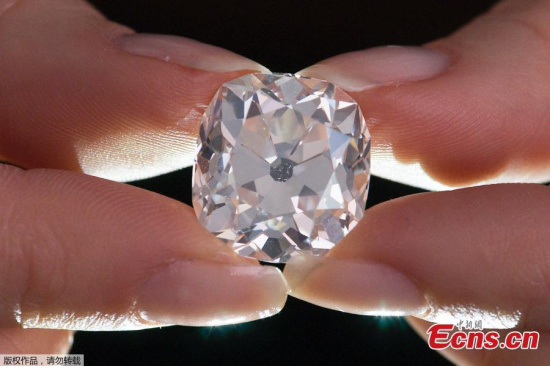 A member of Sotheby's staff poses holding a 26.27 carat, cushion-shaped, white diamond, for sale at Sotheby's auction house in London on May 22, 2017. (Photo/Agencies)
A diamond that was snapped up at a junk sale for 10 pounds ($13) has sold at auction in London for 656,750 pounds ($836,000).
The gemstone, which has been dubbed the "tenner" diamond, was bought as a ring at a flea market in West London in the 1980s, and then worn for many years by its oblivious owner, who had no idea it was a genuine 26.27-carat, cushion-shaped white diamond.
The buyer thought it was just a piece of costume jewelry, due to its "filthy mount", and had no idea it was valuable.
After decades of wear, the true worth of the stone became apparent when it was taken to Sotheby's for a valuation after a jeweler said it might be valuable. Jessica Wyndham, head of Sotheby's London jewelry department, said the owner wore the rock while carrying out everyday chores.
"The owner would wear it out shopping, wear it day-to-day," she said. "It's a good-looking ring. No one had any idea it had any intrinsic value at all. They enjoyed it all this time."
The auction house originally valued the stone at 350,000 pounds, but it ended up going for nearly twice that amount when it went under the hammer at a Sotheby's fine jewels sale on Wednesday.
The successful final bid was made by an international buyer.
The ring was recently confirmed as a genuine diamond by the Gemological Institute of America. It is thought to have been cut in the 19th century, when the style was to cut to preserve weight, rather than to show brilliance, so it is large but relatively dull.
"Many of us in our lifetime would never even dream of seeing ... a stone like this," Wyndham told a news program.