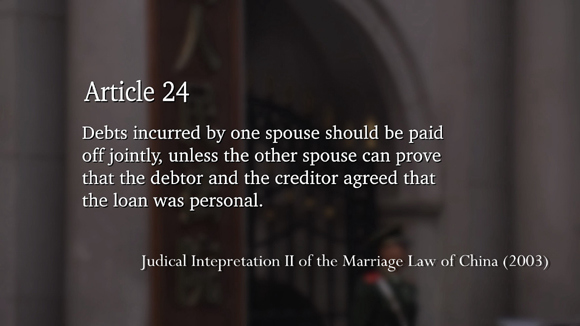 (Photo/CGTN)
Marrying the wrong person and ending up divorced can be trouble enough for many people. But a judicial explanation of China's marriage law has made the problem much bigger for some. That's because under a clause in the law known as Article 24, thousands of people across China have been forced to pay off the debts their ex-spouses secretly accumulated during their marriage.
Zhou Wei never expected to fall into debt over a loan she never took on.
Two years before Zhou's divorce in 2014, her then-husband borrowed 540,000 yuan, or about 77,000 US dollars, from a neighbor to fund a company construction project. He never told Zhou about the loan and put both of their names on an IOU. The money then went into a company account.
When her ex-husband failed to pay off the loan, the creditor sued the couple. The court ruled that Zhou should also repay the debt, because the loan was taken out during her marriage.
The legal basis was a judicial interpretation of China's marriage law issued by the country's Supreme Court in 2003. Its Article 24 states that: "Debts incurred by one spouse should be paid off jointly. That's unless the other spouse can prove that the debtor and the creditor clearly agreed that the loan was personal."
"I have no way to prove this," Zhou said. "I never took part in the loan, so how could I prove that the money was never used for my family life? How could I prove where it came from and went? What's worse, I have no way to prevent something like this from happening," she said.
21 million RMB of debt
Wu Liufang was similarly caught off guard when she received 15 subpoenas just one month after her divorce. She was being sued by eight creditors and asked to pay off 21 million yuan, or 3 million US dollars.
Her former husband admitted that he borrowed the money without Wu's knowledge while they were still married. All of the money was spent on gambling. However, the creditors claimed that they didn't know what the money was used for, and there was no evidence that gambling was involved. The court subsequently ruled that the loan was legal and Wu should also be held liable.
"I was angry, shocked and helpless," Wu said. "I went to petition at the higher people's court, but the officers there told me that as long as I can't prove that every penny of the 21 million yuan was spent by my husband on gambling, I would have to bear it as a joint debtor. The judges all followed Article 24. If the law doesn't change, the ruling would be the same. When I heard this, I just couldn't help bursting into tears right away," Wu said.
An intermediate court affirmed the original ruling and the higher people's court rejected her request for a retrial. Wu's house was forcibly sold by the court, and her former husband has since disappeared. As a result, all of the creditors are now going after Wu and her family.
"These creditors hired gangsters to stalk around my workplace, my kids' kindergarten, my home and my parents' home," Wu said. "They put posters and banners spreading my parents' information. They even installed a location tracker under my car to stalk my family and me," she said.