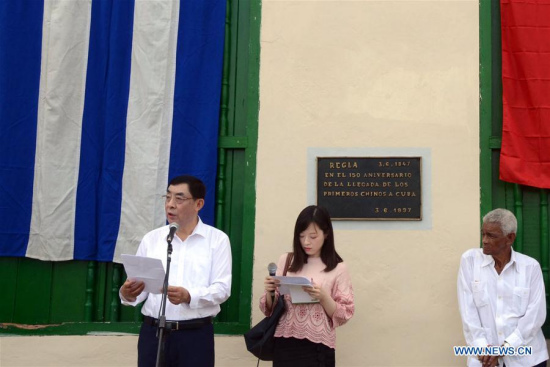 Ma Peihua (L), vice chairperson of the National Committee of the Chinese People's Political Consultative Conference, addresses a political-cultural event held to mark the 170th anniversary of Chinese presence in Cuba in Regla, Cuba, June 3, 2017. (Xinhua/Joaquin Hernandez)
Ever since the first Chinese immigrants arrived in Cuba 170 years ago, the process of cultural exchange has never stopped.
Eight years ago, when Tao Hulei came to Havana to study medicine, he never imagined that he would end up starting a family and working in Cuba.
"When I arrived, I knew nothing of the country. Slowly, I discovered the people, who are very kind with foreigners, especially the Chinese," said Tao in perfect Spanish while taking care of his four-month-old daughter, after he married a Cuban woman, Elizabeth Gonzalez.
Now, the Chinese doctor works in a Havana hospital and says he has adopted to the warm climate and diverse culture.
Gonzalez, who studies Chinese in the Confucius Institute, says that they "are very happy" and have overcome their differences.
"At home, we only speak Spanish. He helps me to learn Chinese but only for homework," she says, laughing.
Tao and Gonzalez are the latest links in a chain stretching back to June 1847, when the first 200 laborers arrived in Havana, with many settling down to start families.
Since their arrival, Chinese immigrants and their descendants have left a profound mark on Cuban history, including fighting against Spanish colonialism and following the revolution of Fidel Castro.
"There was no Chinese-Cuban deserter. There was no Chinese-Cuban traitor," reads a monument in Havana, quoting Gonzalo de Quesada (1868-1915), a lawyer and close friend of Cuba's national hero, Jose Marti.
Festivities concluded on Sunday with a series of activities, which counted on the presence of Ma Peihua, vice chairperson of the National Committee of the Chinese People's Political Consultative Conference.
In a ceremony on Saturday, Ma said that bilateral cooperation "has overcome the tests of a changing international situation and the two people have developed a profound friendship."
"We are ready, jointly with the Cuban counterparts, to continue being good friends with mutual sincerity, lasting cooperation and reciprocal trust, deepening the traditional friendship, broadening mutually beneficial cooperation, and intensifying exchanges to better develop Sino-Cuban relations," explained Ma.
The Chinese presence on the island is so important that the government organized a series of cultural activities to bring Chinese culture closer to the people.
These included martial arts demonstrations, historical conferences, exhibitions by Cuban artists of Chinese descent and the presentation of the book, "Chinese beliefs and traditions in Cuba," by researcher Mercedes Crespo.
The printing press of Havana's Chinatown was also reopened and the local daily, Kwong Wah Po, the only one of its type on the island since 1944, will serve the local Chinese community again five years after being shut down.
On Saturday night, Havana's National Theater showcased the art show "Beautiful Tianjin," held by a delegation of artists from this Chinese city.
Tao and Gonzalez attended some of these activities, but without knowing, they are also representative of a cultural phenomena that has overcome the barriers of time and distance to bring China and Cuba closer together.