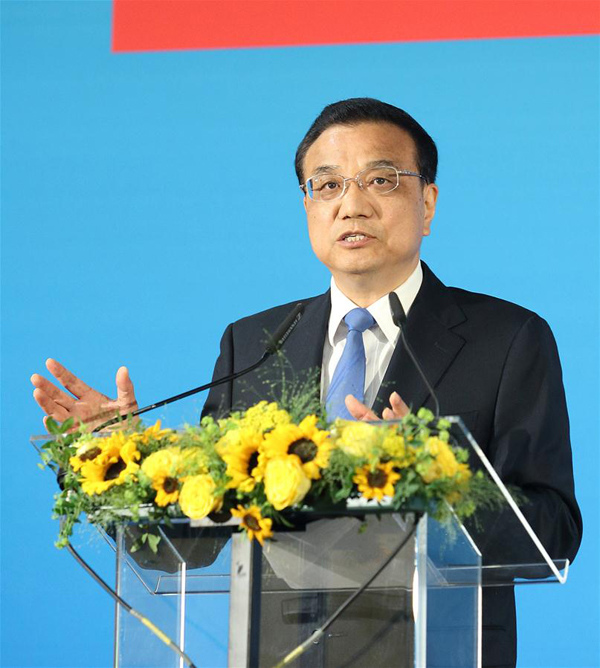 Chinese Premier Li Keqiang delivers a speech at the 12th EU-China Business Summit in Brussels, Belgium, June 2, 2017. (Xinhua/Wang Ye)
China and the European Union (EU) are confronting growing global "uncertainties" with a stable relationship, visiting Chinese Premier Li Keqiang said on Friday. [Special coverage]
Li made the remarks in a keynote speech at the 12th EU-China Business Summit, in response to European Commission President Jean-Claude Juncker's concern on global uncertainties.
China and the EU hold extensive common ground on ideas in dealing with important international relations, the premier said.
Both sides believe that China and the EU should go with the tide of globalization and push forward globalization to make it fairer and more inclusive, he added.
It is clear that globalization has brought tremendous benefits to China, the EU and the world, Li said, noting that globalization should not be blamed for the negative influence emerging along with it.
However, China and the EU should take actions to tackle problems brought by economic globalization, he said.
The current pressing task is to uphold the principles of fairness and free trade and revive the two engines of trade and investment, he added.
China always attaches great importance to fairness and sustainability while promoting free trade with the EU, Li said.
Noting that free trade and fair play complement each other, Li said he hopes that free trade can be sustainable, healthy and balanced.
"In other words, buying or selling by force, playing the fox in trade or selling counterfeit and shoddy products cannot be sustainable and will eventually block the process of free trade," Li said.
The Chinese premier pointed out that since entering the World Trade Organization (WTO) in 2001, China has fulfilled its commitment.
He added that the EU should fulfill its obligations under Article 15 of the Protocol on China's Accession to the WTO and thus send a signal that international rules should be respected and multilateral system protected.
China and the EU, two important players on the world stage, enjoy a comprehensive strategic partnership. The EU is China's largest trading partner while China is the EU's second largest trading partner.
Li's Brussels trip, which also included the 19th China-EU leaders' meeting and an official visit to Belgium, came after his official visit to Germany, where he attended the annual meeting between Chinese premier and German chancellor.