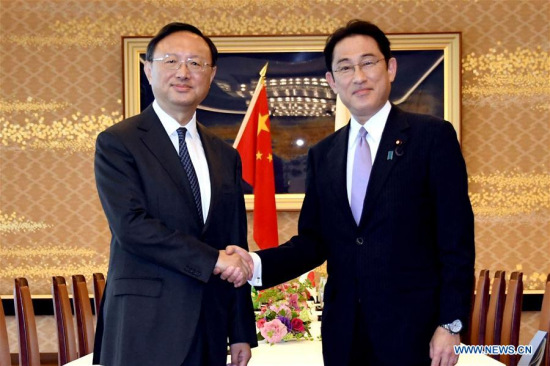 Chinese State Councilor Yang Jiechi (L) meets with Japanese Foreign Minister Fumio Kishida in Tokyo, Japan, May 30, 2017. (Xinhua/Gang Ye)
Chinese State Councilor Yang Jiechi met with Japanese Foreign Minister Fumio Kishida on Tuesday, calling for joint efforts to develop bilateral ties in positive direction.
Yang said that China and Japan should take the opportunity to enhance the positive factors and eliminate the negative ones in the Sino-Japanese relations, upholding the spirit of taking history as a mirror while looking forward to the future.
Abiding by the four political documents and the four-point agreement between the two countries, China and Japan should move in a positive direction to exclude interferences and push for the stable and healthy development of bilateral relations, he said.
He stressed that the two countries should properly address sensitive issues in order to achieve a stable improvement of bilateral relations.
He urged the Japanese side to honor its words and cautiously and properly handle important matters of principle including the Taiwan and historical issues, and to safeguard the political foundation of its relations with China.
Yang also called on the two sides to enhance dialogue and properly manage differences and to make joint efforts to safeguard the peace and stability in the East China Sea in the spirit of the four-point agreement.
Kishida, for his part, said that the two countries are facing important opportunities to develop bilateral ties as this year marks the 45th anniversary of the normalization of China-Japan diplomatic ties and the next year marks the 40th anniversary of the signing of the Treaty of Peace and Friendship between China and Japan.
He said Japan is willing to join hands with China to expand positive aspects in bilateral relations, enhance exchanges and dialogues at all levels, strengthen political mutual trust, deepen practical cooperation and promote people-to-people exchanges with China.
The two sides also exchanged views on the nuclear issue on the Korean Peninsula.
Yang reiterated China's principled stand and views on the issue, stressing that it is necessary for the international community, while insisting on and promoting the denuclearization of the Korean Peninsula, to also step up efforts to promote peace talks and facilitate the peaceful settlement of the nuclear issue on the peninsula.