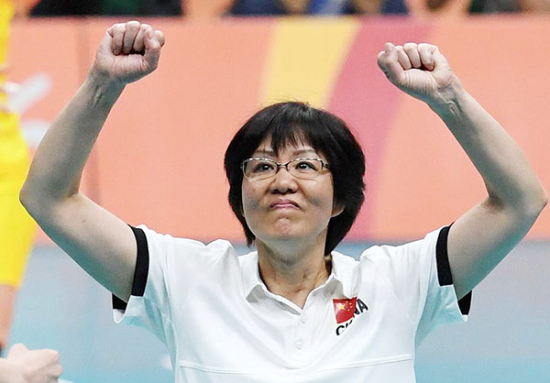 Lang Ping, coach of China's national women volleyball team celebrates victory in the final at the 2016 Rio Olympics on Aug 20, 2016. (Photo/Xinhua)
Chinese volleyball legend Lang Ping has been appointed as the president of the Chinese Volleyball Academy, the Chinese Volleyball Association (CVA) said on Thursday.
Lang is the first person to have won the Olympic volleyball gold medal both as a coach and a player.
The Chinese Volleyball Academy, co-founded by the CVA and Tianjin Sports Institute, will be inaugurated in October 2017.
"The Chinese Volleyball Academy aims to boost the volleyball-playing population, advance the study of the sport and groom coaches," said the CVA.
The Chinese Volleyball Academy, located on the campus of Tianjin Sports Institute, will have 10 standard courts for indoor volleyball and two courts for beach volleyball.
Lang steered China's women's volleyball team to gold in last year's Olympic Games in Rio. She also captured an Olympic title with the 1984 Chinese national team in Los Angeles.
Lang is currently the chief coach of the Chinese women's volleyball team.