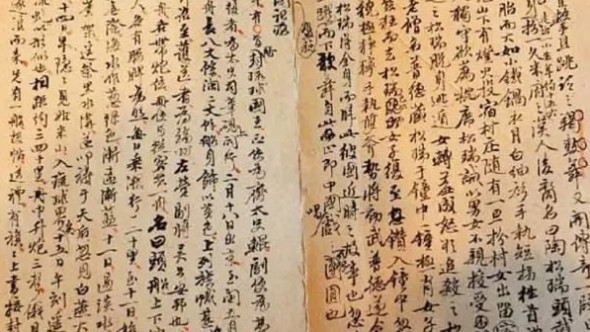 A manuscript written by an imperial doctor named Wang Bichang from China's Qing Dynasty. (Photo/CGTN)
Manuscripts by an imperial doctor named Wang Bichang from China's Qing Dynasty were unearthed recently, listing out 540 different kinds of "secret" prescriptions.
Now, one may wonder of the significance of the discovery and what exactly are "secret" prescriptions. Unlike modern western doctors, prescriptions by traditional Chinese doctors in the past belonged to the doctors' family or the clan. Thus, with this shroud of secrecy, many of these prescriptions remain private and unknown to the public.
In January this year, the China Association of Collectors was looking through a collection of imperial doctors' manuscripts from the Ming and Qing Dynasty.
Peng Ling, the Association's Executive Director, stumbled upon Wang's historically significant manuscripts titled "Talking about Recovery: A Collection of Bizarre Symptoms".
The published collection of "Talking about Recovery" has five volumes. While the unpublished manuscript found recently contains four parts on Traditional Chinese Medicine such as acupuncture theory and prescriptions for rare diseases at that time.
Traditional remedies account for over three-quarters of the manuscript, touching on modern diseases such as cancer, tumors and issues like, hematuria and hematemesis.
Wang, born in 1764 in She County at eastern China Anhui Province, worked as the imperial doctor for nine years during Jia Qing Emperor's reign (from 1796 to 1820).
In 1810, he left the imperial medical college for his hometown. After departing, Wang wrote the collection "Talking about Recovery" based on his clinical experiences and medical knowledge.