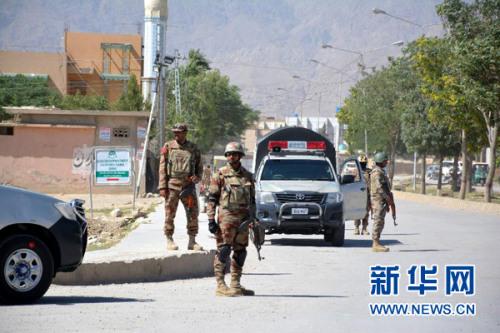 Soldiers walk around a kidnapping scene where two Chinese nationals were kidnapped by unknown gunmen in Quetta city, Pakistan, May 24, 2017. (Photo/Xinhua)
The Chinese embassy in Pakistan on Wednesday confirmed that two Chinese nationals were kidnapped by unknown gunmen in the country's southwest Quetta city earlier in the day.
An official from the embassy told Xinhua that they are trying to know more details about the incident as well as about the abducted persons, adding that they have urged the Pakistani side to rescue the abductees as quickly as possible.
The kidnappers forced the abductees into a vehicle on gunpoint and drove away, local media quoted Deputy Inspector General of Quetta police as saying.
The kidnapped including a man and a woman were returning from a restaurant when the incident happened in Jinnah Town area of Quetta, the capital city of the country's southwestern Balochistan Province, local Urdu TV Aaj reported.
The kidnappers were initially taking away three Chinese including two women and the man, but a passerby helped one of the women escape, local reports said.
The passerby got injured in a shootout, who has been shifted to a nearby hospital where police recorded his statement for investigation.
Balochistan Chief Minister Sanaullah Zehri took notice of the incident and directed police to search the abductees. A search operation has been kicked off in the area.
He further directed to design a standard operating procedure for ensuring the security of foreigners working in the province.
On his direction, a heavy contingent of police has been deployed at all entry and exit points of the city for checking.
No group has claimed responsibility for the kidnapping yet.
Read more:
Pakistani law enforcers launch search operation to recover abducted Chinese nationals
Police and other law enforcement agencies launched a search operation on Wednesday evening in Pakistan's southwest city of Quetta and its adjoining areas to recover the two Chinese nationals who were abducted earlier in the day.