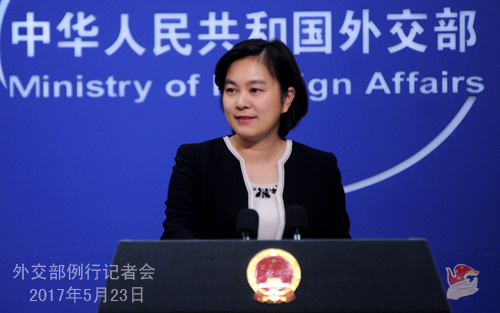 Foreign Ministry spokesperson Hua Chunying (Source: fmprc.gov.cn)
China on Tuesday applauded the decision by the World Health Organization (WHO) to reject a proposal to discuss the invitation of China's Taiwan to the WHO's annual assembly.
"The decision defended the dignity of the UN General Assembly and the World Health Assembly resolutions, and showed the one-China principle is supported by the international community," said Foreign Ministry spokesperson Hua Chunying.
The Chinese central government wants the issue of Taiwan's participation in events held by international organizations to be properly handled in accordance with the one-China principle and via cross-Strait negotiations, she told a daily press briefing.
From 2009 to 2016, the central government made arrangements for Taiwan to attend the assembly as an observer under the name "Chinese Taipei," in accordance with the "1992 consensus" reached between the Chinese mainland and Taiwan, according to Li Bin, head of both the Chinese delegation to the assembly and the National Health and Family Planning Commission.
However, Taiwan's Democratic Progressive Party has refused to recognize the one-China principle, which has undermined the political basis of Taiwan's participation in WHO's annual conference, Li said.