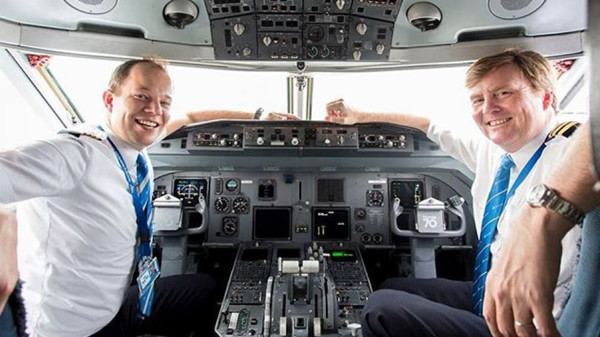 Frequent passengers aboard planes operated by Dutch airlines KLM might have just discovered that they could have been served by the King of the Netherlands during their journeys in the past years.
King Willem-Alexander has recently revealed to Dutch newspaper De Telegraaf that he has been flying twice a month as a co-pilot of the airlines for the past 21 years.
The 50-year-old monarch is a qualified pilot who had flown KLM passenger flights before acceding to the throne in 2013, and has been flying Fokker 70 aircraft for KLM's Cityhopper service -- aimed at business travelers heading to European destinations, such as the UK, Germany and Norway.
"I find flying simply fantastic," he told the newspaper. The King said flying helps him shift his focus on something else, and it was the biggest way of relaxation for him.
"You have a plane, passengers and crew and you are responsible for them. You can't take your problems with you off the ground," he said.
The Fokker 70 aircraft are being replaced by Boeing 737 this year, and the King said he intends to spend the next few months learning how to fly the new airplanes.
He said he was rarely recognized by passengers while in uniform and wearing KLM cap, as he usually flew the plane incognito. He said passengers were more likely to recognize him before the 9/11 attacks, as the cockpit door was unlocked at the time.
"Before September 11, the cockpit door was open. People regularly came to have a look and thought it was nice or surprising that I was sitting there," he said.
The Dutch king is not the only royal member who flies an aircraft. Britain's Prince Charles is a qualified pilot, and his son, Prince William, who has been flying with the East Anglian Air Ambulance as a helicopter pilot since 2015, is expected to quit his job to become a full-time royal in the summer.
William's younger brother, Prince Harry, used to serve in Afghanistan as an Apache helicopter co-pilot.