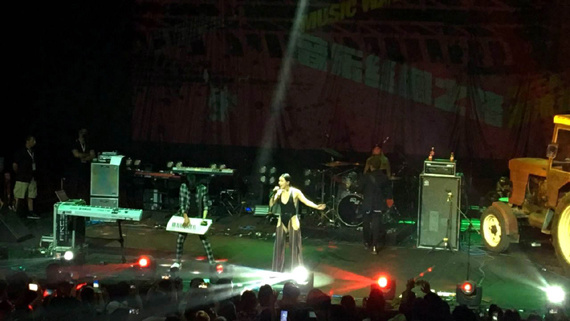 Belanova performing as part of the Meet in Beijing Arts Festival (Photo/‍CGTN)
Belanova, one of the most popular bands in Mexican history, have brought their Latin Grammy-winning sound to China for the first time.
After a musical career of almost 17 years and five studio albums, they performed in Beijing on Sunday and Monday. Band members Edgar Huerta, Ricardo Arreola and Denisse Guerrero are now readying for a concert in Shanghai on Wednesday.
In Beijing, the dynamic trio performed their signature wildly addictive sweet-as-candy pop beats as well as some nostalgic classics.
Keyboard player Huerta told CGTN, "We want to show the musical journey of Belanova, to give an overview of our sound, from the first to the last albums. And we've also prepared a surprise, a very Mexican song that everybody here could know."
Belanova was formed by three friends who decided to get together in Guadalajara in 2000 to create music.
The group was catapulted to stardom when their catchy dance track "Por Ti" rocketed to the top of MTV Mexico's Top 20 and stayed there for a record-setting 29 straight weeks.
They have never looked back, bringing their tender melodies, bubbly beats and soulful Spanish-language vocals to venues around the world.
On Sunday, the band performed at Rose Bud, a small venue in Beijing's 798 Art Zone, as part of this year's Meet in Beijing Arts Festival.
Lead singer Guerrero said the more intimate space represents a return to the group's origins, compared to performing in big stadiums.
"Performing in small places creates a good vibe. The audience is closer and we, as artists, can feel more free… Personally, I love intimate concerts," Guerrero said.
Even after years of singing their most acclaimed songs, some for more than 10 years, Belanova are already working on new creative projects that will be introduced to the public soon.
Featuring 100 performances and exhibitions from 21 countries and regions, the Meet in Beijing Arts Festival runs until the end of May.