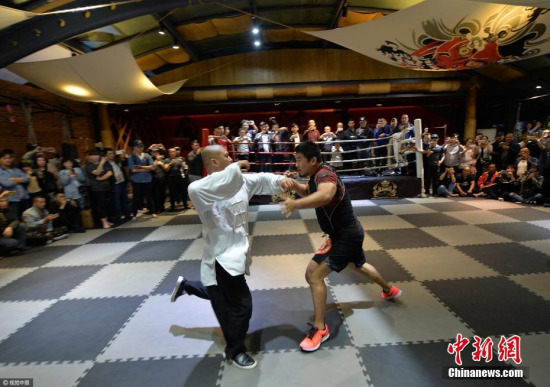 Mixed martial arts fighter Xu Xiaodong (R) challenges tai chi master Wei Lei in Chengdu City, Sichuan Province. (Photo/VCG)
A recent video showing a mixed martial arts fighter from Beijing knocking down a self-proclaimed tai chi master within seconds continued to score big on social media this week.
While the demonstration may be seen by some as a defeat for traditional martial arts as portrayed in movies, an expert said on Tuesday that the whole thing was a publicity stunt.
It all started with a personal grudge. Xu Xiaodong, a 38-year-old MMA coach and promoter, was angry with 41-year-old Wei Lei - head of the Lei style of tai chi - after Wei posted Xu's personal contact information online last year. Xu said that created a disturbance in his life.
Meanwhile, Xu frequently proclaimed in his online video shows that traditional martial arts are useless in real combat - provoking Wei, who challenged Xu to a duel in Chengdu, Sichuan province, in April.
Wei arrived in Chengdu last week to prepare for the fight, which was scheduled for Saturday. The fight, which took place in front of a crowd at the Yichan Club, was streamed live via Xu's social media account. It was stopped within 20 seconds, after Wei was knocked to the ground.
After the fight, Xu announced on social media that he would take on any master who wants to defend the honor of traditional martial arts, and would put up 1.2 million yuan ($174,000) in prize money. He said he will expose the fake martial arts masters.
"It was just a childish fight between two unfit amateurs and has nothing to do with the honor of MMA or traditional martial arts. It means nothing, no matter who wins," said Shao Shiwei, former deputy director of the Martial Arts Sports Management Center of General Administration of Sports.
He said he has never heard of Lei style tai chi or its chief. "There are many self-proclaimed martial arts masters in China who like to exaggerate the power of traditional martial arts just to make money," he said.
"The martial arts movies are very misleading, too. If traditional martial arts were developed to fight or kill others, it would have been banned a long time ago and wouldn't exist now."
Tai chi is proven to be effective for improving people's health, and helpful in getting over depression. Practicing martial arts should be a healthy lifestyle and never be used to hurt others, he said: "The fight is just a publicity stunt, which doesn't deserve attention from the public or media."
Several tai chi practitioners - including Chen Shou from Chenjiagou, Henan province, the birthplace of Chen style tai chi - say they will take Xu up on his challenge.
Modern tai chi emphasizes health, but it can also be powerful in practical combat, especially Chen style tai chi, Chen said.