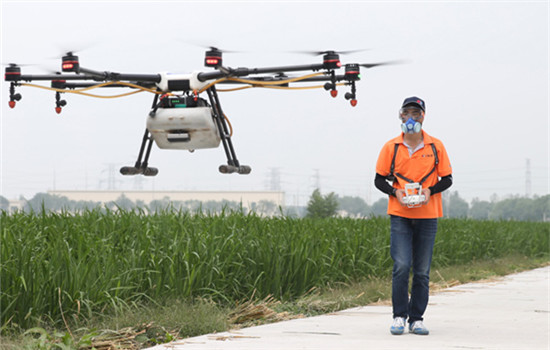 A worker uses a drone produced by drone maker DJI to spray pesticide on fields in Shanghai. (Photo/Xinhua)
The authorities are using drones to spray pesticide on wheat fields in Xinghua, East China's Jiangsu province, as part of this year's diseases and pests control program.
The local government is introducing high-tech tools to ensure bumper harvest in the future and to boost the development of intelligent agriculture.
In January, Vice-Minister of Agriculture Zhang Taolin for the first time acknowledged using drones as agricultural machinery, Caijing Magazine reported.
Zhang said the government will subsidize agricultural drones in suitable pilot regions, which means agricultural drones have been included as the national subsidized agricultural machinery for the first time.
According to a report by SWS Research, the agricultural drones' operations have clear advantages over manual operations on operation efficiency, pesticides efficiency, water consumption, and cost.
The DJI Agras MG-1, the first agricultural drone produced by world leading drone maker DJI Innovations, can spray an area of 4,000 to 6,000 square meters in 10 minutes, 40 to 60 times faster than manual operations.
As of last June, agricultural drone ownership in China reached 4,890, doubling from the end of 2015, according to the Ministry of Agriculture.
As less than 2 percent of the 122 million hectares of arable land in China use drones, there is huge market potential for the application of drones in agricultural sector, Caijing Magazine reported.
Consulting firm iResearch said in a report that the market scale of agricultural drone in China is expected to reach 20 billion yuan ($2.9 billion) by 2025. And SWS Research made a bolder prediction that the industry will reach 50 billion yuan by 2020.