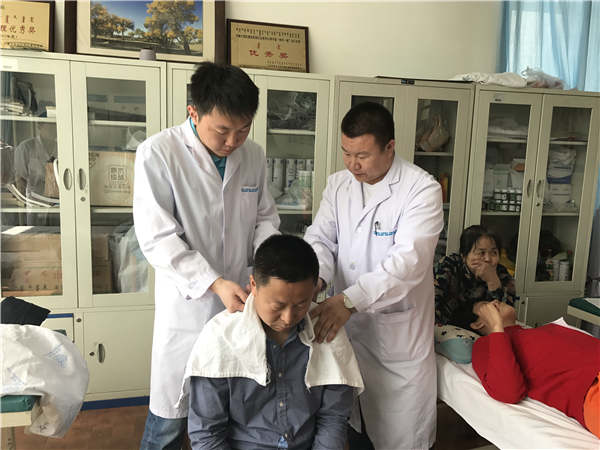 Namdaq Dampilon (left), a Russian intern, studies at the Inner Mongolia International Mongolian Hospital in Hohhot. YUAN HUI/CHINA DAILY
Sassazov Ramazan runs a clinic in Almaty, Kazakhstan.
The 33-year-old is interested in alternative therapies around the world and has been visiting China over the last decade to study traditional Chinese medicine.
A lesser-known variety - traditional Mongolian medicine - found in the Inner Mongolian autonomous region has aroused his curiosity since he read about it online a few years ago.
"Sometimes great medicine is hidden in the grassroots," says Ramazan.
"Though I don't understand traditional Mongolian medicine now, I'm fascinated by its pharmaceutical and diagnostic methods."
During a recent visit to China, he went to the State-owned Inner Mongolia International Mongolian Hospital in Hohhot, capital of the autonomous region, to "condition" his body.
Traditional Mongolian medicine, which is generally considered to date to Genghis Khan's time, is now stepping out of a relatively small circle of practitioners to reach more people.
Namdaq Dampilon, a 24-year-old medical intern from St. Petersburg, Russia, now stays at the hospital. He is from the Bury at community, a sub-ethnic Mongol group.
"My grandfather is a doctor, and I have an emotional connection with my ethnic roots," he says. "This led me to Inner Mongolia. I want to be a doctor of traditional Mongolian medicine, also as a way to inherit the culture."
Dampilon recalls his surprise at seeing a patient walk after being treated only with acupuncture and massage.
"Traditional Mongolian medicine has its advantages in curing stomach, lung and orthopedic diseases," he says.
"But we need to learn Western medicine at the same time to mix advantages."
He says he wants to learn Chinese acupuncture in Guangzhou, capital of Guangdong province, and to return to Hohhot to continue studying Mongolian pharma for another year.
Khangai Baatar, head of the hematology and oncology department at the hospital, says: "Compared with Western medicine, traditional Mongolian medicine has relatively smaller doses, and the medicine is mainly made of herbs and minerals, which are natural and easy to take."
The nomadic lifestyle on the grasslands where the Mongolian ethnic group lives has helped develop the medicine, he says.
"They have fewer side effects compared with other medicines and are cheaper."
Though similar to traditional Chinese medicine, traditional Mongolian medicine usually uses more pills than raw herbs compared with TCM.
"Traditional Mongolian medicine believes that the human body is a comprehensive unit, which has a self-healing capacity," he says.
"Medical methods are used to fully mobilize the human body to cure itself. Patients are given different medicines to be taken at different times during the day."
Mixing Mongolian medicine and other traditional medicine varieties with Western medicine will help to ease the situation in China where medical resources are in short supply due to the huge population.
Ulaan, head of the Inner Mongolia International Mongolian Hospital, says the methods to cure 149 diseases at the institution are entirely based on traditional Mongolian medicine.
Mongolian medicine has been attracting public attention since this flagship institution was founded in 2012. The hospital receives more than 2,000 patients daily.
Speaking of cross-border medical services, Ulaan says she is proud.
Some 10,000 patients from the country of Mongolia have come to the hospital, and the hospital organizes trips for its medical practitioners to China's northern neighbor two to three times a year.
In 2013, Ulaan led a delegation to the United Nations headquarters in New York to attend an international forum organized by the World Health Organization, where she delivered a speech on the role traditional medicine from China has played in people's daily lives.
"Academic communication and training of more international expertise has followed," she says. "We call it 'medical diplomacy' to echo the Belt and Road Initiative."