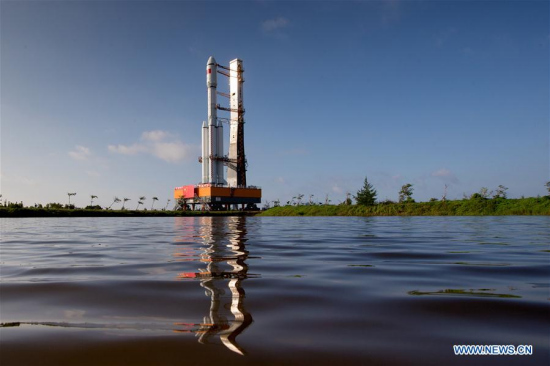 Photo taken on April 17, 2017 shows the cargo spacecraft Tianzhou-1 being transferred with a Long March-7 Y2 carrier rocket from the testing center to the launch zone in Wenchang, south China's Hainan Province. (Xinhua/Ju Zhenhua)
China's first cargo spacecraft Tianzhou-1 is scheduled for launch at 7:41 p.m. Thursday from the Wenchang Space Launch Center in southern China's Hainan Province, the office of China's manned space program said Wednesday.
The cargo spacecraft will be carried into orbit by a Long March-7 Y2 carrier rocket, the office said.
Fuelled by liquid oxygen and kerosene, the medium-sized rocket is able to carry cargo spacecraft and satellites. It made its maiden flight June 2016.
Tianzhou-1 is the first cargo ship independently developed by China. It is expected to operate in orbit at 380 kilometers before docking with the orbiting Tiangong-2 space lab.
Measuring 10.6 meters in length and up to 3.35 meters in diameter, the tube-like Tianzhou-1 can carry over 6 tonnes of cargo.
The cargo spacecraft will also carry out experiments, including one on non-Newtonian gravitation, before falling back to earth.
The launch of Tianzhou-1 will is a crucial step for China plans for a space station by 2020.